Reminder: If you see illegal or suspicious activity on your local waters, be sure to report it. Mitch Boyum covers Fillmore, Houston, and Winona Counties. He can be reached at 507.932.4947.
Octoner 7, 2017
What a difference a few days makes. The rains started Friday and didn't stop through most of the day Saturday. I was meeting fishing friend Charlie in Lanesboro, but I got an early start to look at quite a few streams before picking him up. We had one in mind, but it, too, was dirty, so we headed to a stream we knew would be clean, and it was very fishable. I started out with a leech pattern and caught a few right away.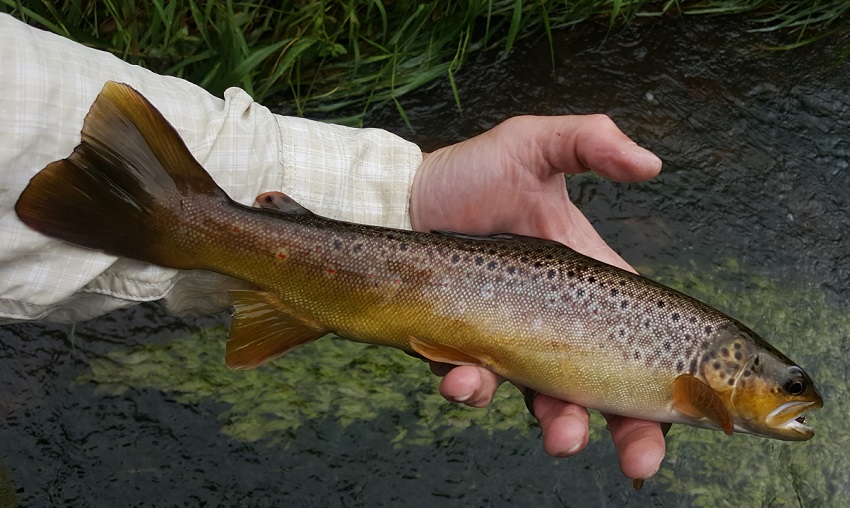 However, my sidekick was starting to catch fish on top and the drop, so I switeched over to an Adams dry and a beadhead dropper and didn't change the rest of the day.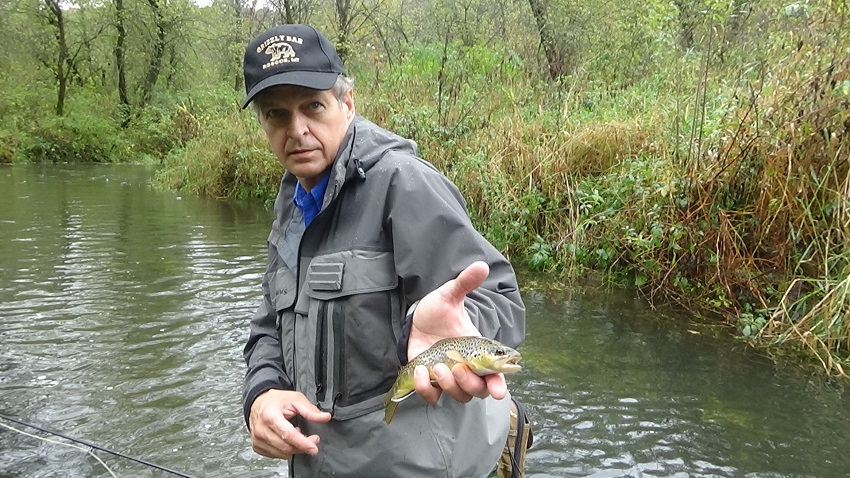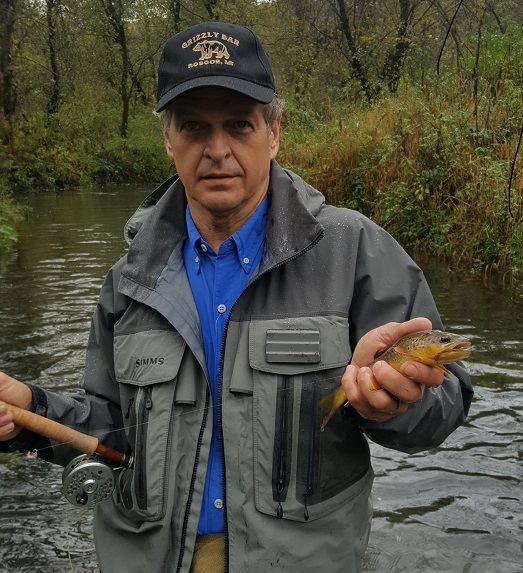 Considering the weather, it was a banner day on the water: tough conditions, a good friend, and the last of the season for me. It was a fitting end to a great 2017.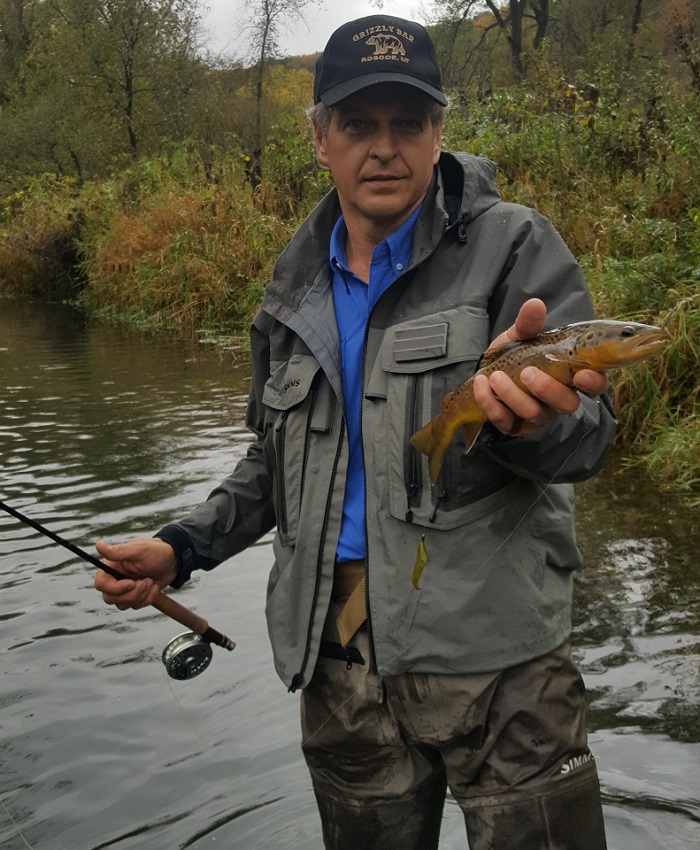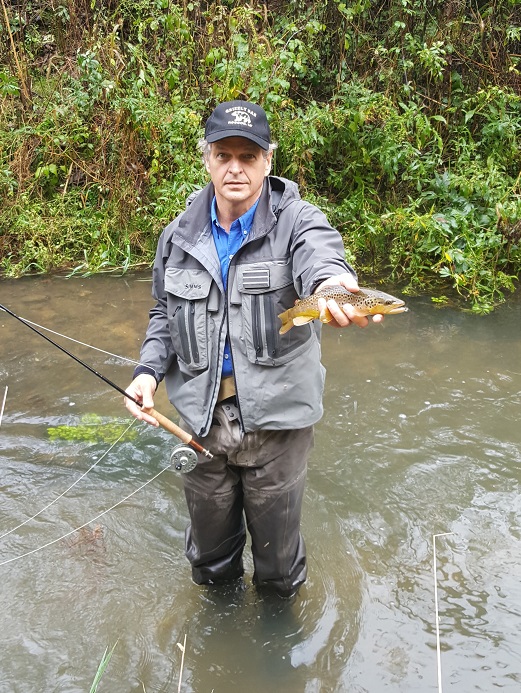 October 1-5, 2017
Two reports in one, both with similar themes. The blue winged olives have been going consistently in the Driftless area for the past week at a minimum. Sunday was a fun day filled with sight fishing, long leaders, and strategic fly placement. The fish weren't overly finicky as they routinely picked up a gray #20 BWO dun, but they were a bit pickier yesterday. It seemed we had to change flies every few minutes with a BWO dun and emerger trailer working out very well in the end.
The second common theme was the colors the trout are putting on right now (not to mention the girth as they head into spawn and into winter). The trout are spectacular looking and very healthy.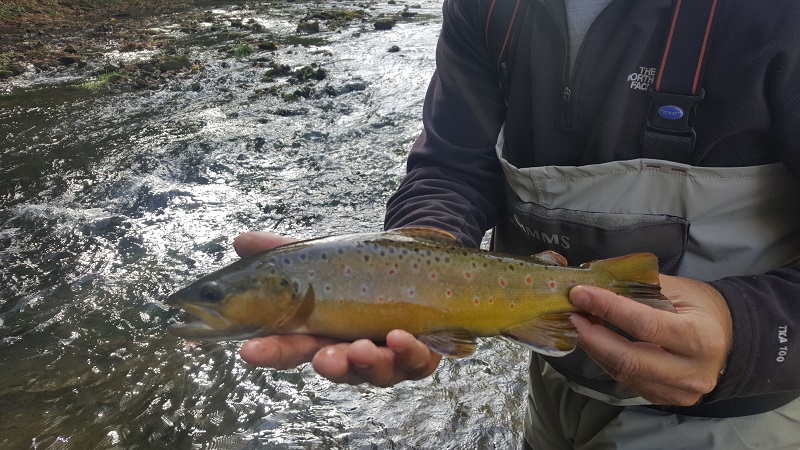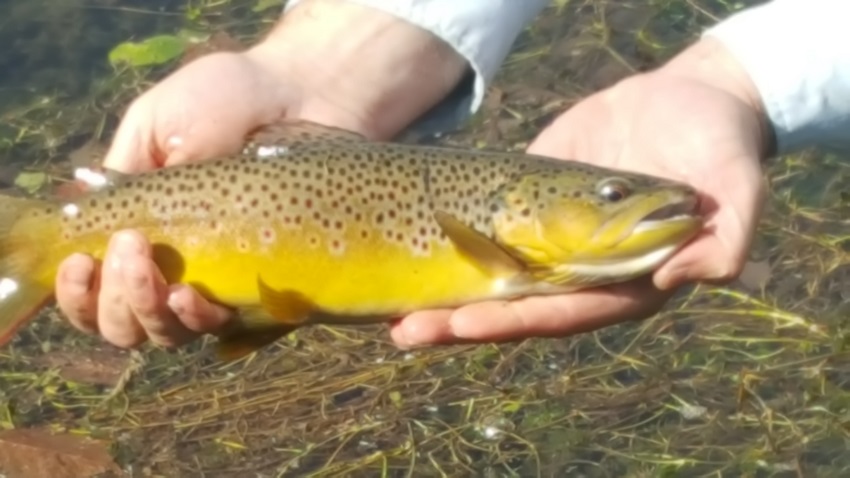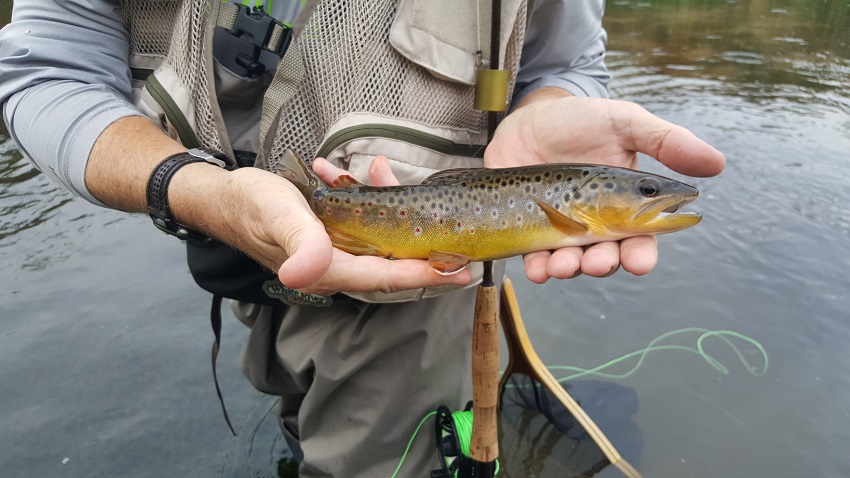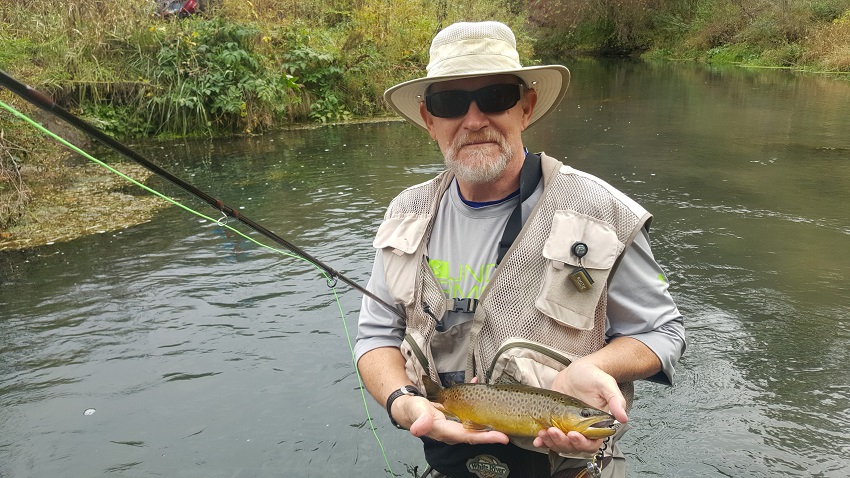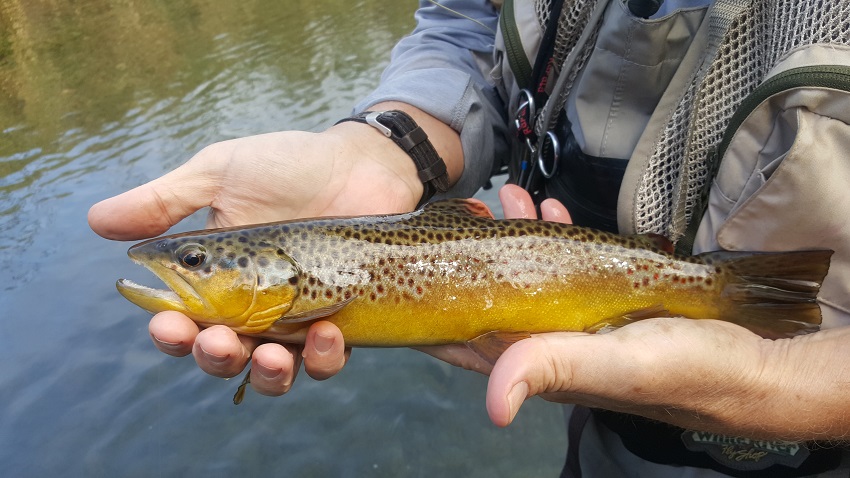 September 15, 2017
I spent the day on the water with two dear friends, both of who fishede the day before in southeast MN with very little result: warm weather has caused many streams to warm quickly and fishing has been tough. Low water is the norm every fall, and that is the case in many areas right now.
I ventured them to a spot I knew had tricos going in the morning, and that was the case tody as well.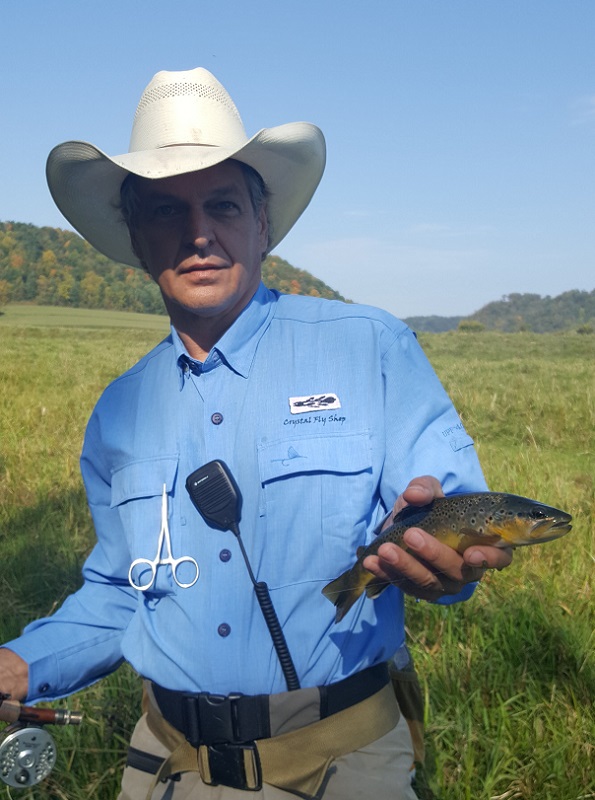 We did a little tandem rigging with an ant pattern that I concocted to go with the trico spinner. That worked well until the hatch flamed out and the trout went back to their botto dwelling sulky mood.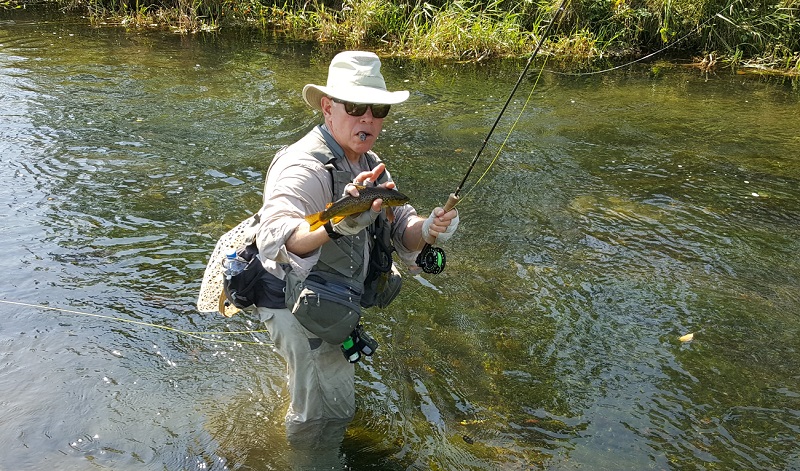 Later in the day, we switched over to some dry and dropper and some hopper patterns with great results.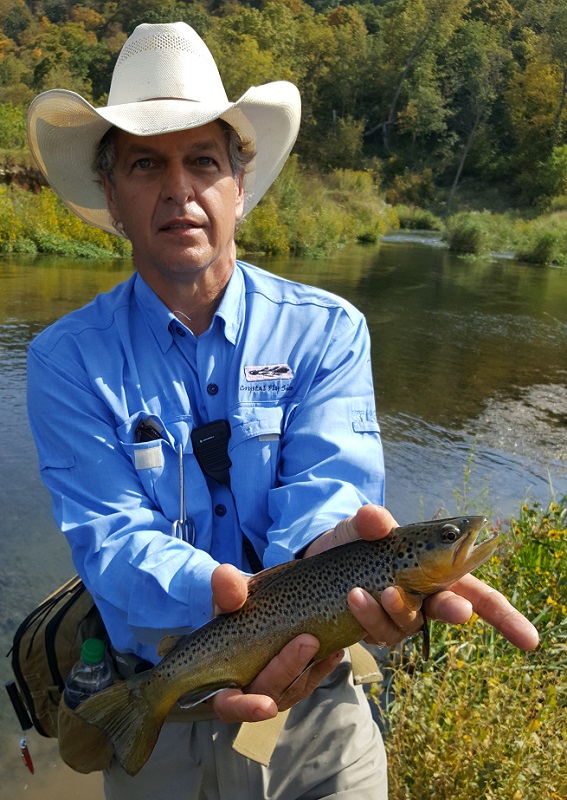 September 2, 2017
I had a chance to get out on the water all day on Saturday. It had been a while since I got a chance to fish without clients, so I took a much needed guide's day off to get and see what was going on.
The first stream I hit already had cars parked at 7:00 AM, so I was forced to fish a section of water with no anglers, but also not a section I really like. It has streamwork, but it is typical DNR streamwork: all one width to the stream, no narrow channels, few cribs, no real plunge pools...basically it's a bank stabilization job with a few deflectors thrown in for good measure, deflectors that don't defelct anything. It's not a habitat improvement project.
I exited that stretch after a frustrating hour of more walking than actual fishing and headed to a second spot. By 9:30 the tricos appeared, which was awesome to see come off. Fish were on top feeding without concern.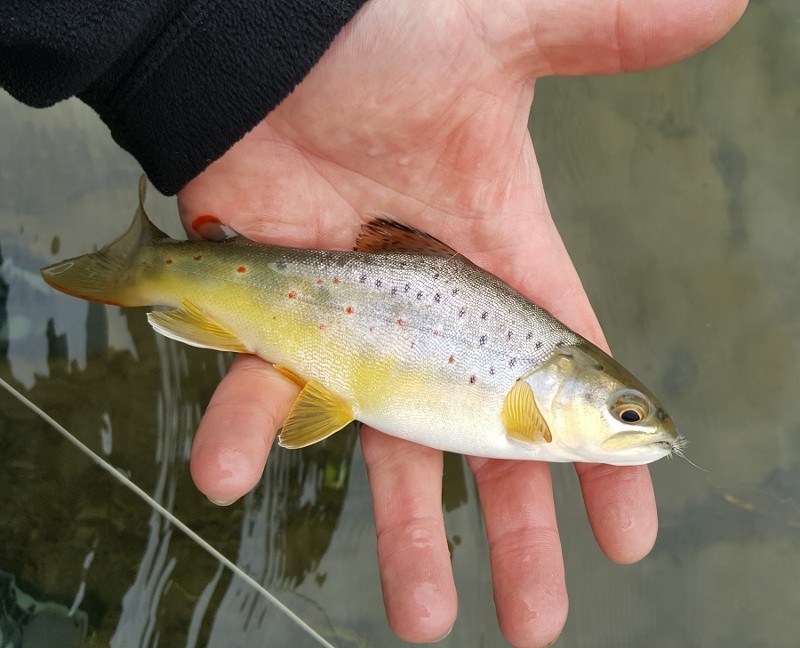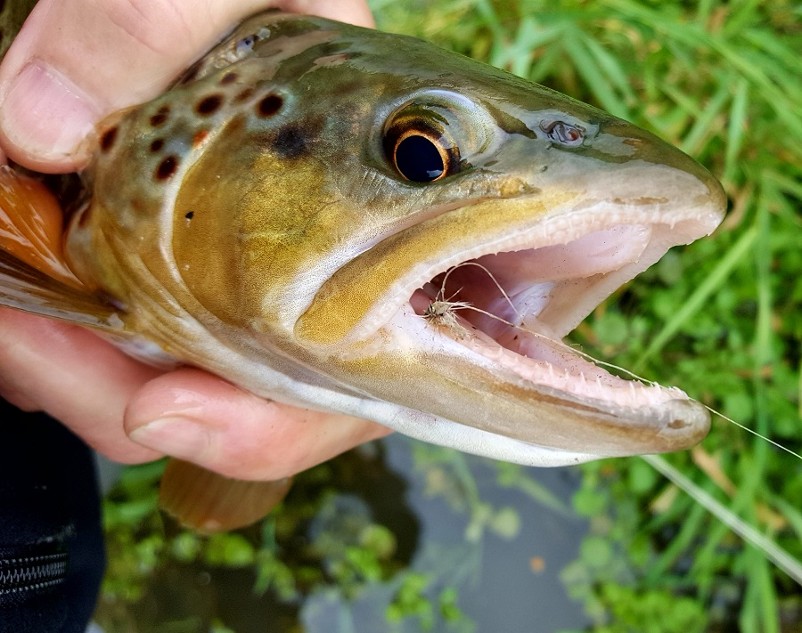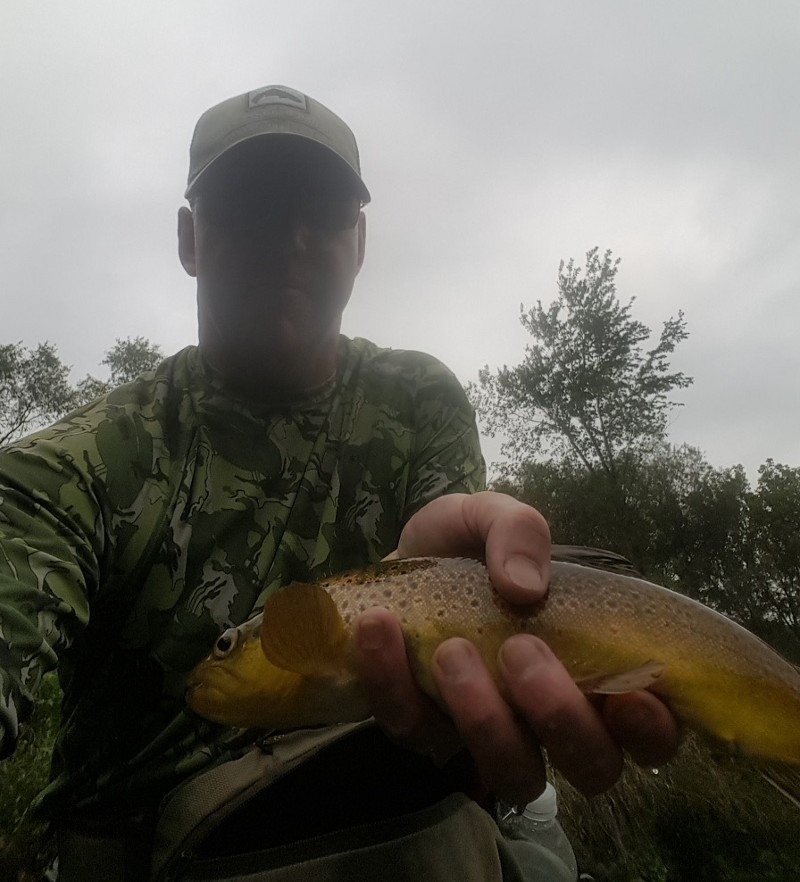 I fished a tendem trico dry with a trico spinner on the back to give them two choices as to what they wanted to eat. I headed back to the car by 11:00, grabbed a quick bite to eat and was then up the road to hit the same stream only a different section. The plan was to hike in and fish out, which is pretty common for me as an angler. I ditched the size 20 trico and opted for a dry/dropper. It was minimally successful, but when I switched up to a hopper pattern the whole afternoon changed dramatically.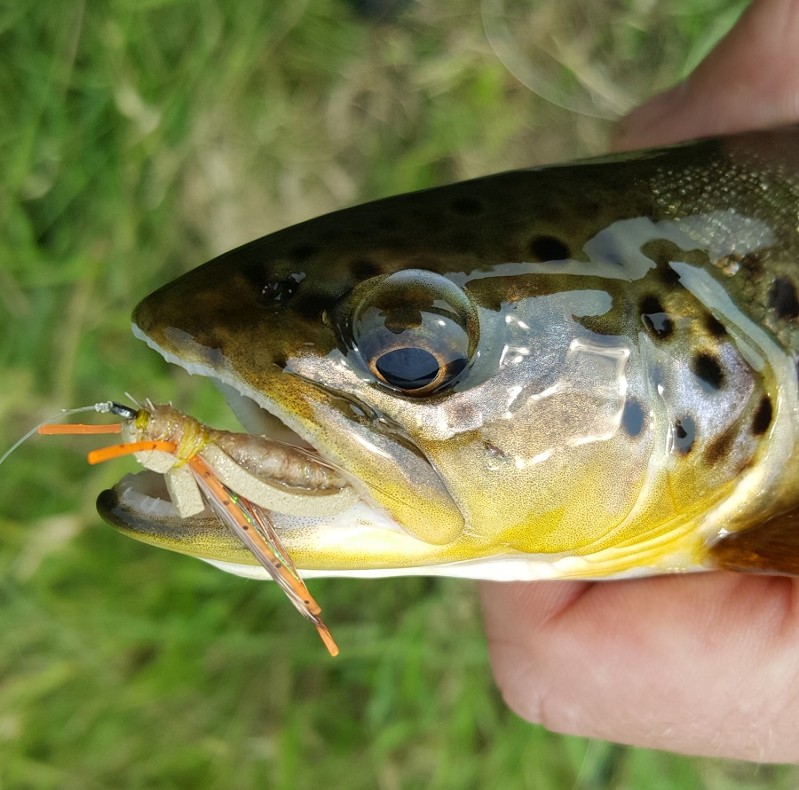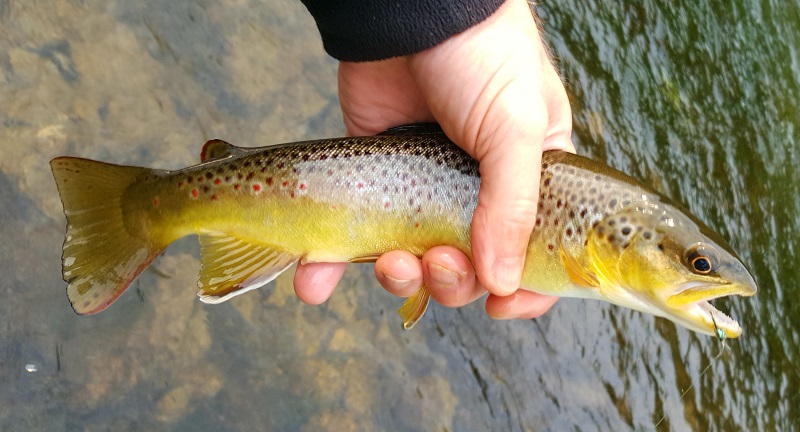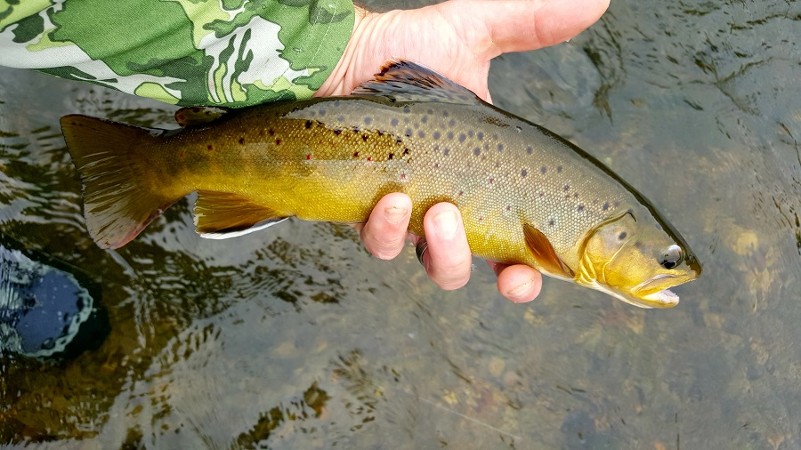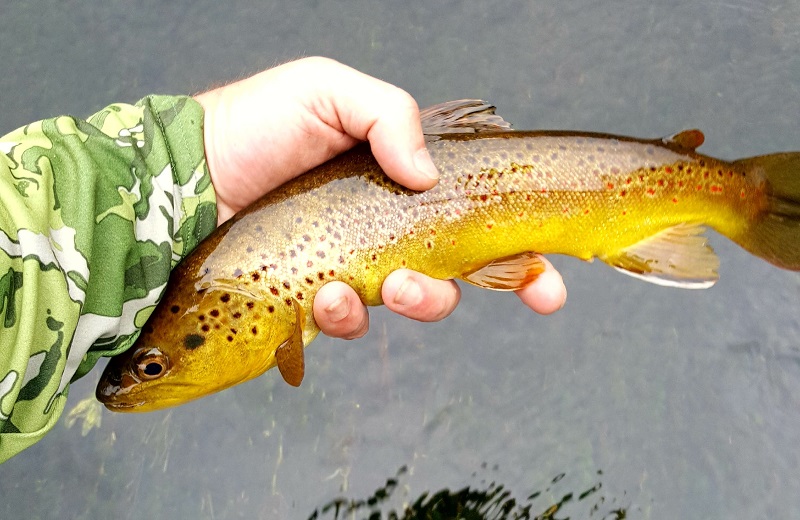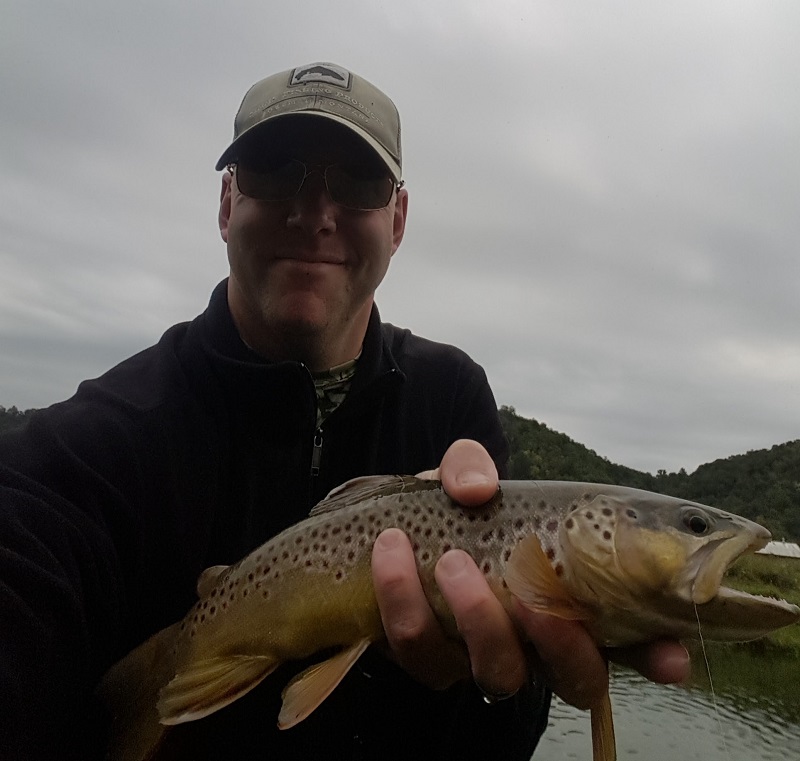 August 22-23, 2017
I had a great couple of half-days with Tom and Mary, two first time Driftless anglers. Day one found us on some water where we found a few trout on nymphs and a few on top hitting some dries. Day two found much of the same - both on nymphs and dries. There were not any tricos in the air when we first got on the water Wednesday morning, but by 10:00, there was a definitive hatch on. Air temperatures were a little north of 52 degrees Wednesday morning, very cool for late August, thus, the delay in the tricos hatching.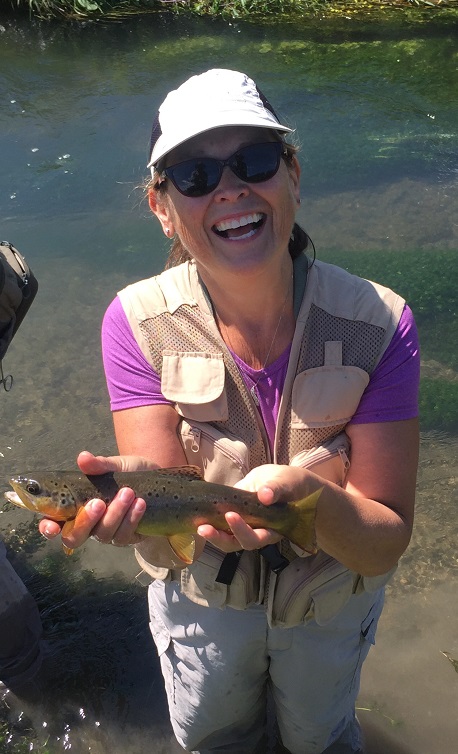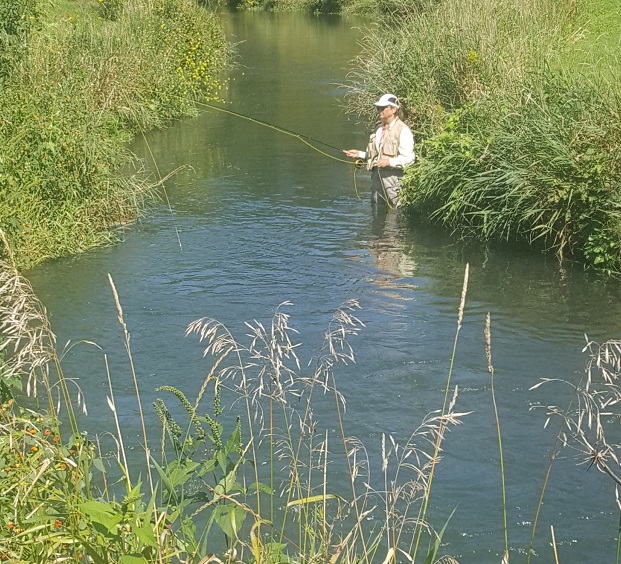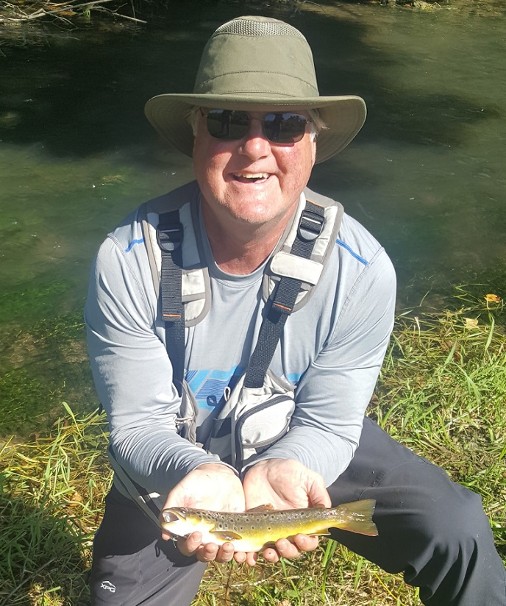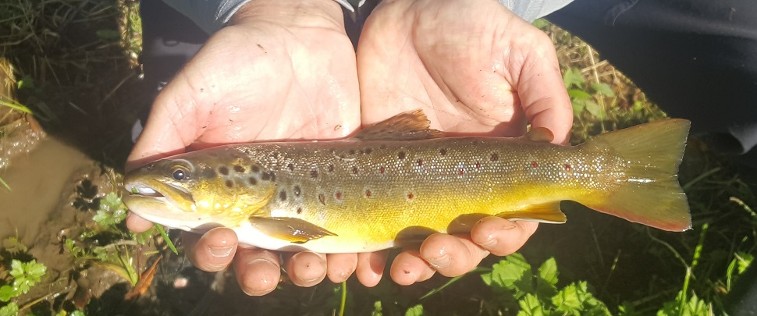 August 19, 2017
Travis and his wife, first time fly angler, Kara, spent the morning with me hitting up an area spring creek. We hiked into our first spot and worked through some casting basics before we tied on flies and got after it.
Kara was a quick learn and in short time caught her first trout ever.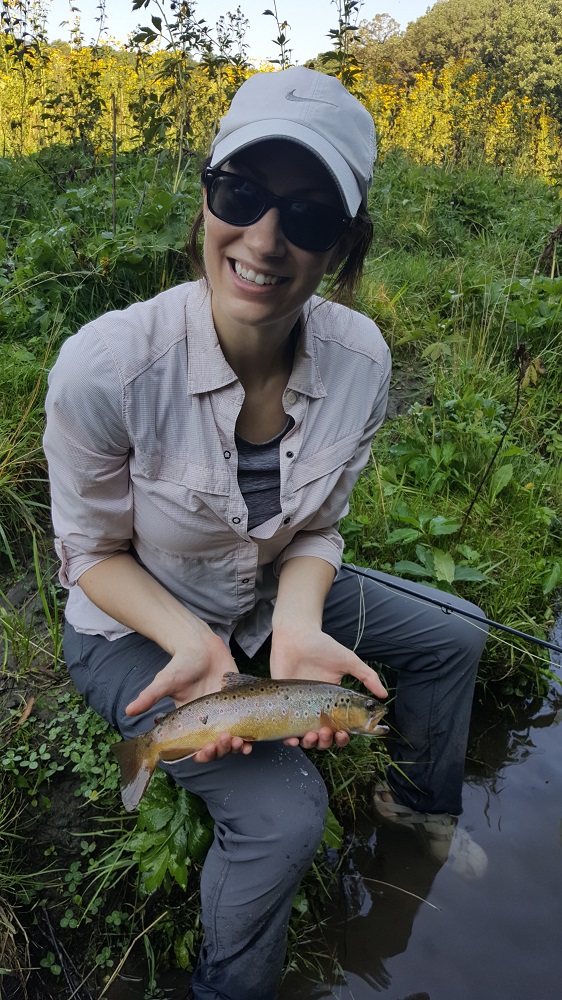 Trout were on nymphs mre than surface patterns. Cooler overnight weather was the culprit and certainly fishing in the morning made those fish a little less eager to show up on top.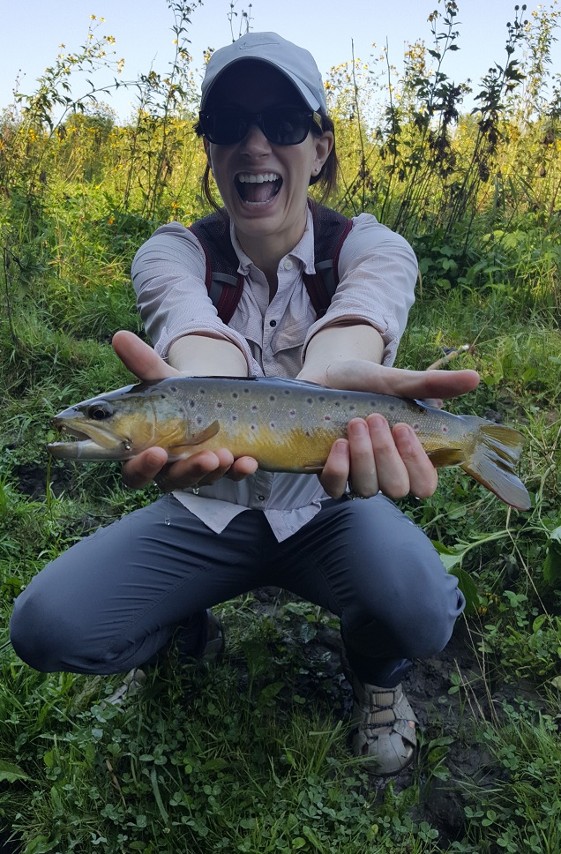 Travis started connecting later in the morning hours as well - mainly on the trail pattern of a tandem rigged nymph system.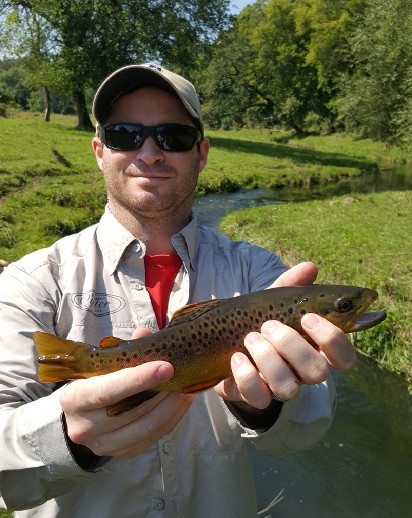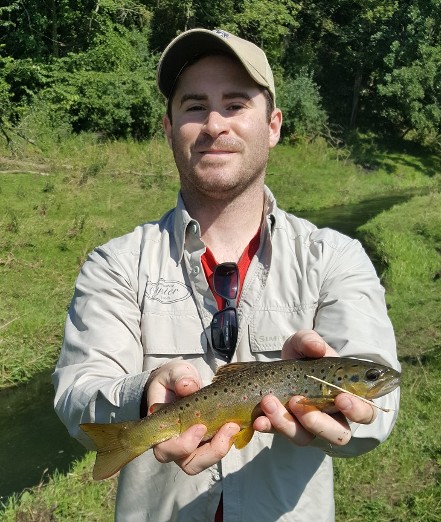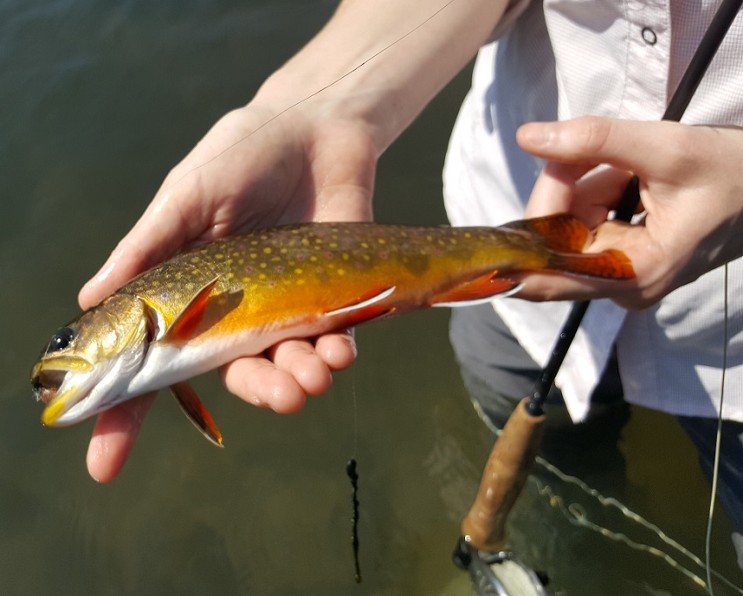 There were plenty of other anglers out enjoying the day: bright sun, south wind, and little humidity.
August 13, 2017
Mike and his 16 year old son Matt spent the day in southeast Minnesota. We had some great fishing in the early morning as temperatures started in the upper 50's before topping out at a very un-Augustlike 72 degrees. Water clarity was very good and fish were active early on.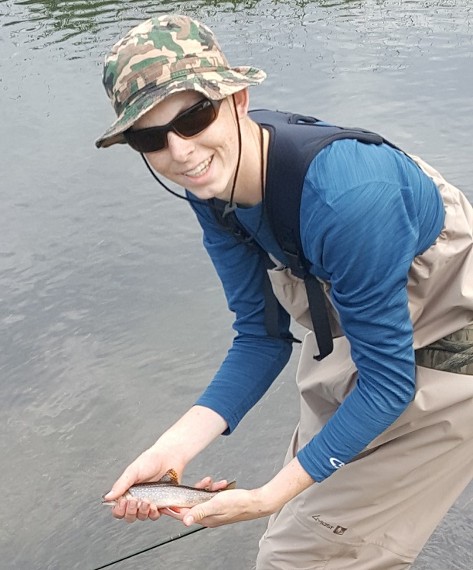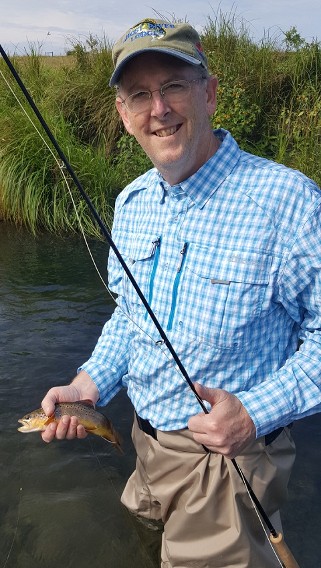 We fooled one fish on my version of the Hippy Stomper.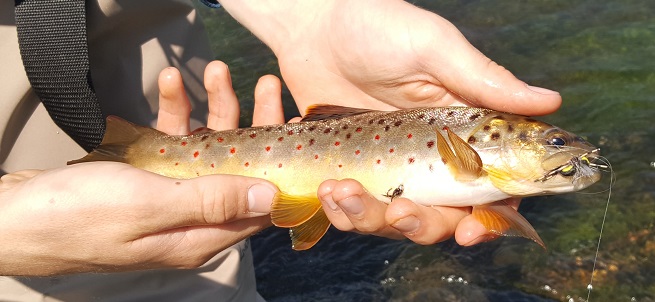 We has some lunch and hit a second stream. Action was very slow in the afternoon hours. We mainly did dry/dropper and teandsem rig nymphing. Not one single patter killed it today, so we ended up chaning patterns often.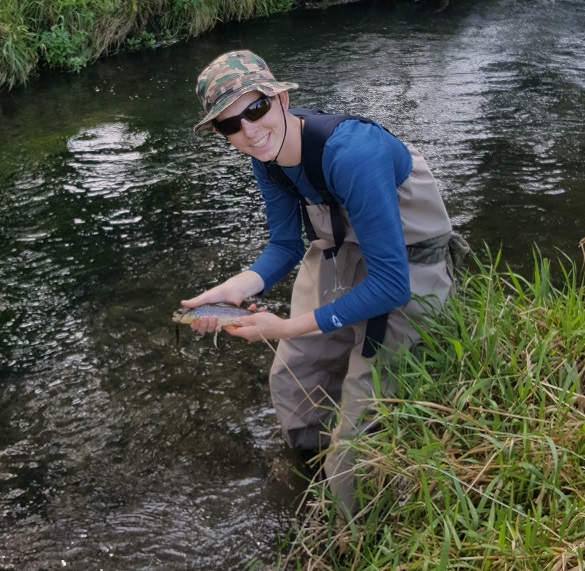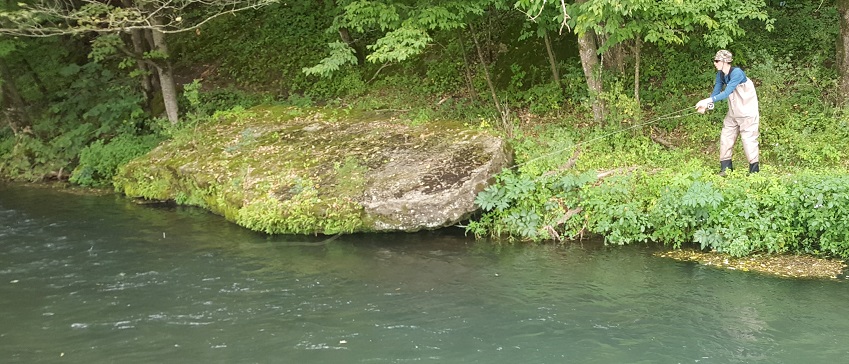 August 12, 2017
Yesterday, I spent the morning with Damon and his dad, Bob, from North Carolina. The weather was beautiful, the streams were clean, and the wild flowers are full on. Fishing was tough most of the morning. Low water temperatures, no real hatches to speak of, and streams that continue to get greener by the day do not help the fly angling cause. We had the best luck nymph rigging the runs that were open enough to fish and had success most of the early morning. By 11:00, the fish activity died down considerably. Several other anglers I ran into commented the same - tough going.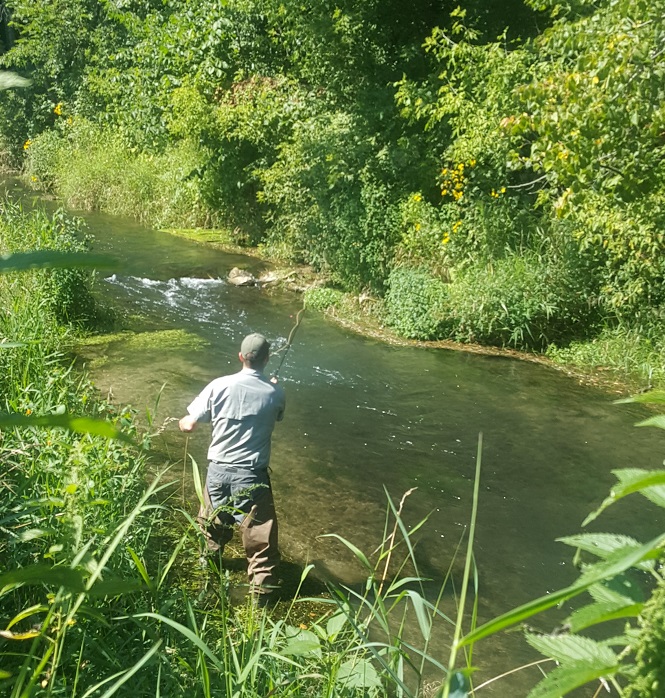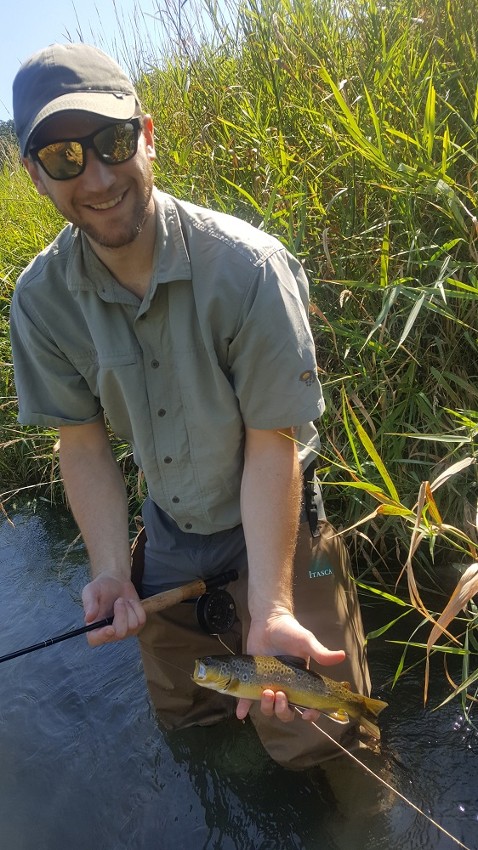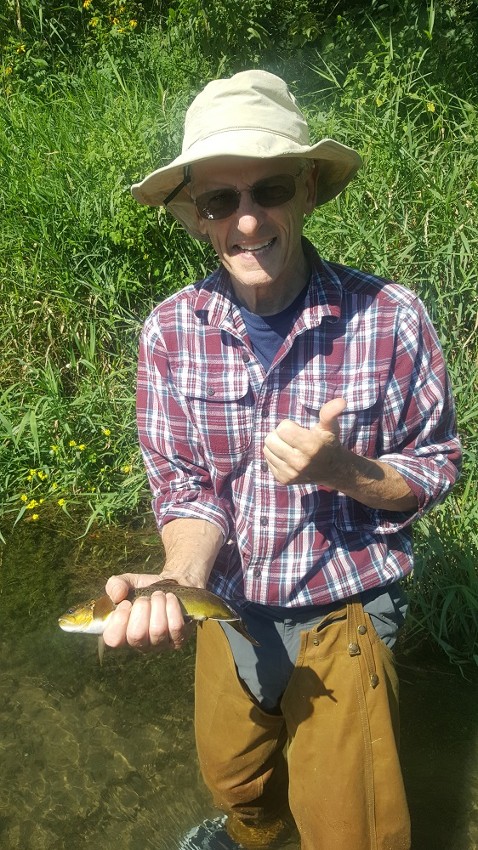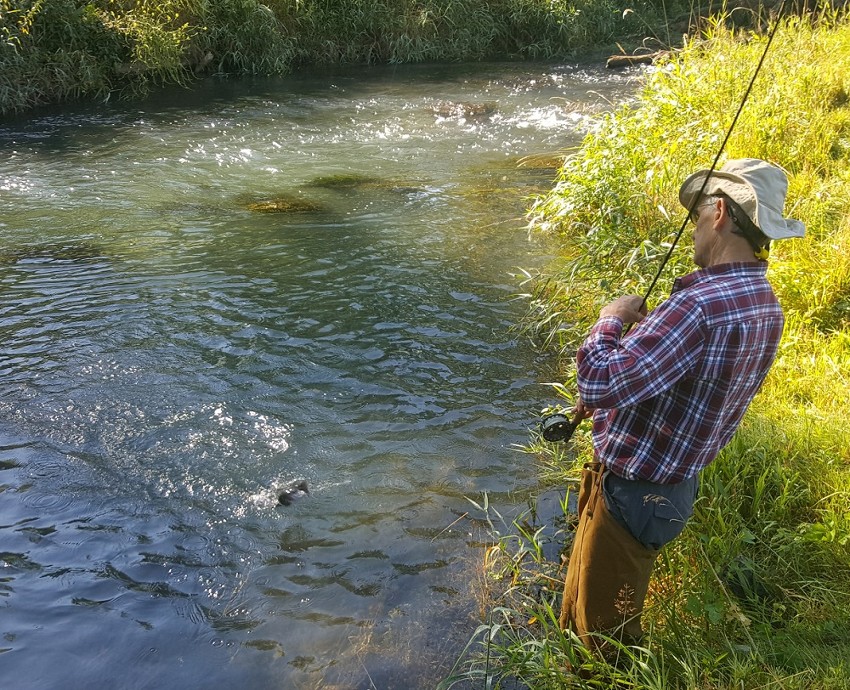 August 5, 2017
I spent the day with my good fishing buddy Charlie and his buddy Greg. Greg's new to the sport, so thought we'd get him out on the water and see southeast MN firsthad with a fly rod.
Tricos were alreadu off and hovering when we arrived Saturday morning. The spinner fall lasted well into the late morning hours, and we had risers conssitently sucking down spinners on a #18 black trico.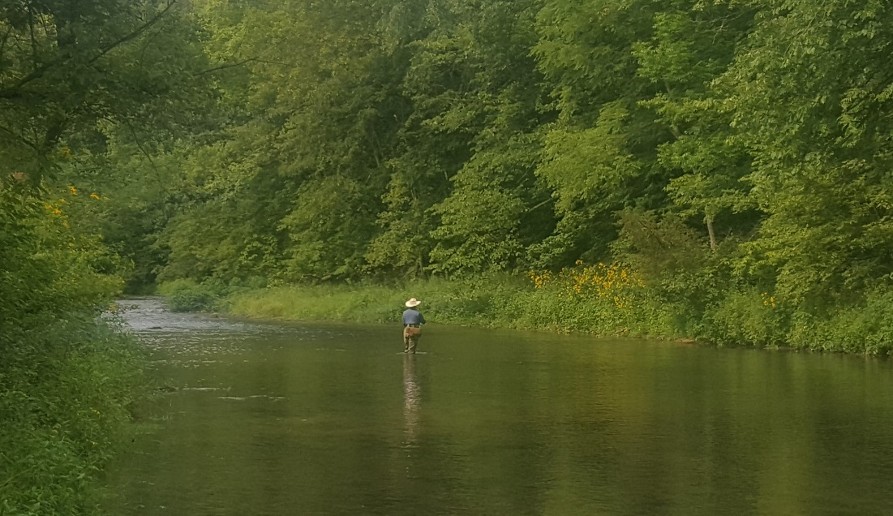 Later in the day, we shifted over to a variety of dry/dropper combinations. Streams are certainly clear, low, and green, making true nymphing almost impossible. We tried nymphing without much luck as the day progressed, so dry and dropper was the way to go.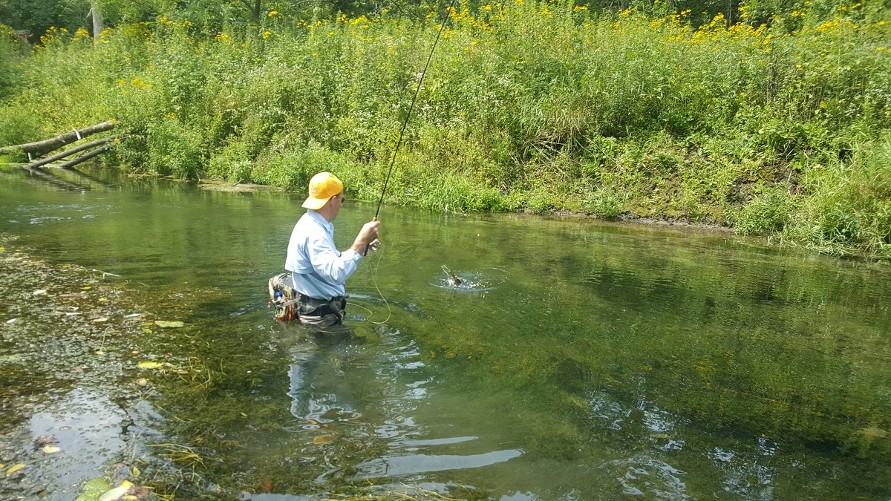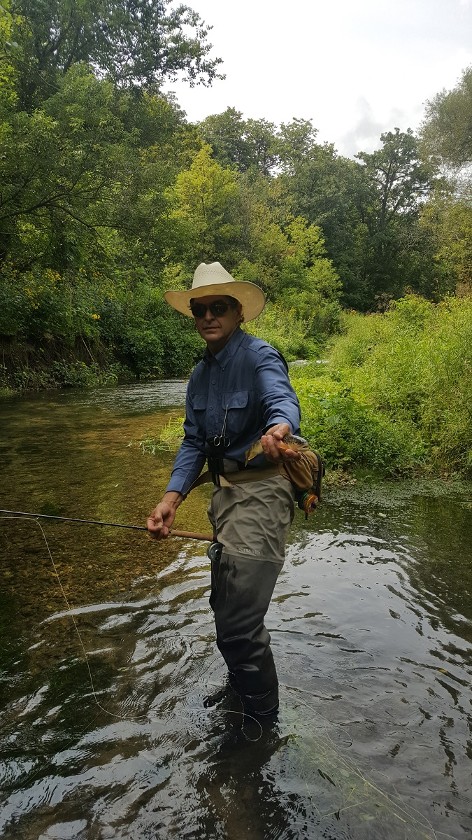 There were certainly lost of trout where we were yesterday, and several instances where they have started to pod up. We snuck up on this pod and the massive brown trout that was mingling with them.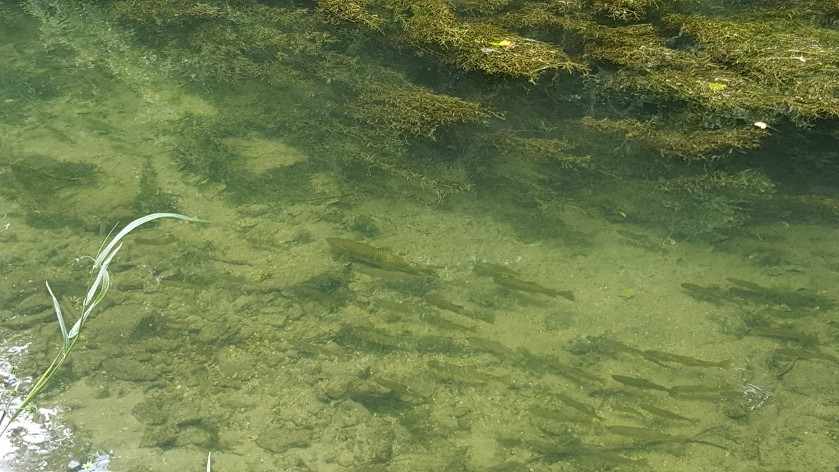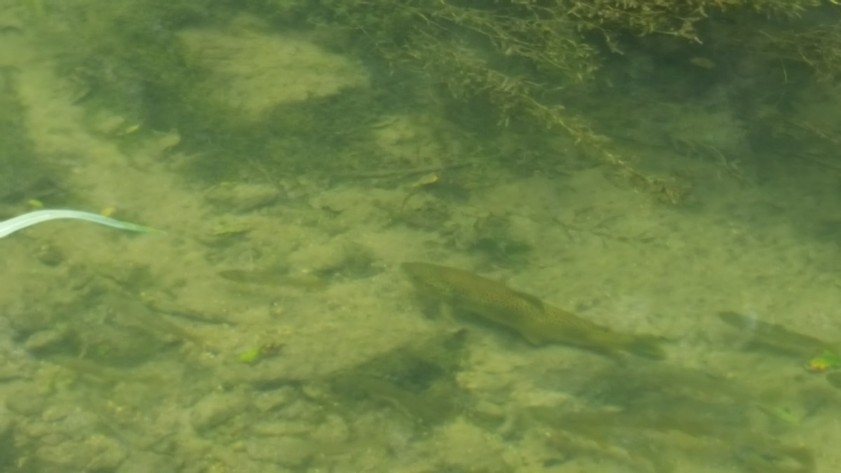 July 17, 2017
I got to spend the morning guiding Nick and Chris on their first fly fishing trip in southeast Minnesota. It was warm and humid that morning, but area streams were very clean. In stream growth has taken over the last few weeks, not to mention all of the greenery along the streams as well (translation - there are many spots where some bush whacking is required). We fished dry and dropper, some basic nymph rigs and caught fish both ways.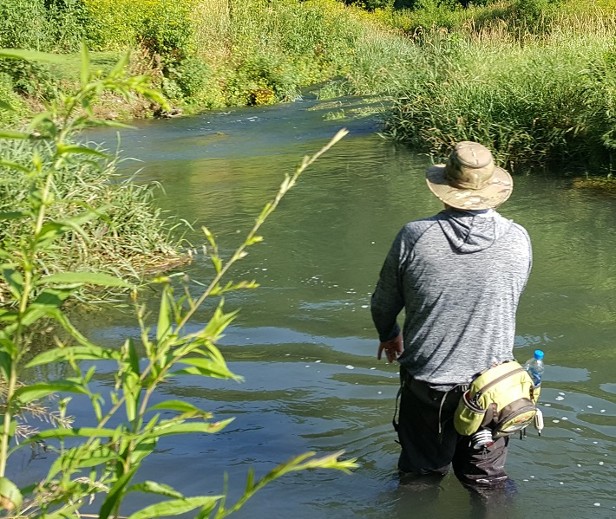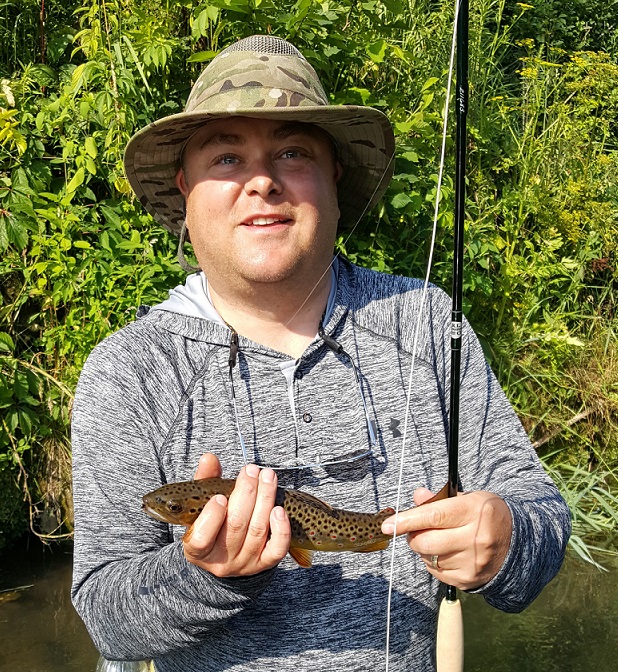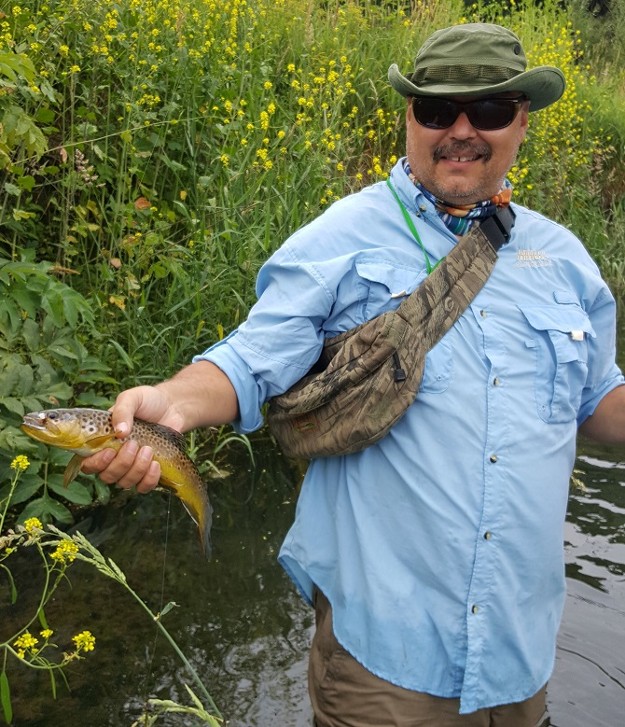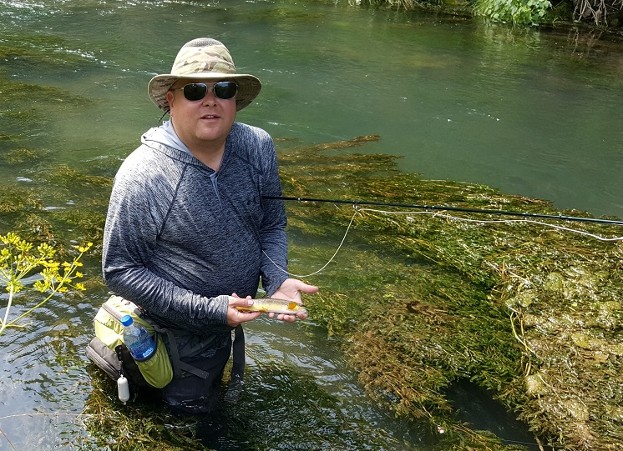 July 3, 2017
I fished with Larry and his eleven year old son, Ben, for a morning shift. Streams were definitely clean where we were, and no one else was out, which is always a bonus.
Ben is a competent angler with his spinning rod and landed some real nice fish that morning. We eventually moved him over to some basic fly casting and, ultimately catching trout, on a fly rod for the first time.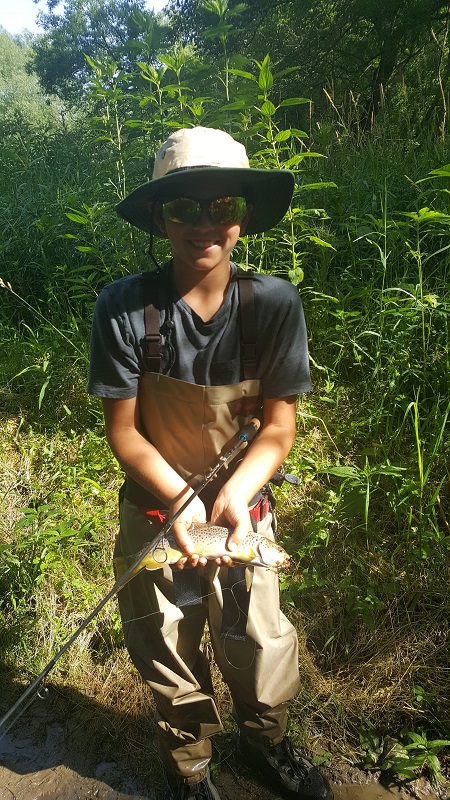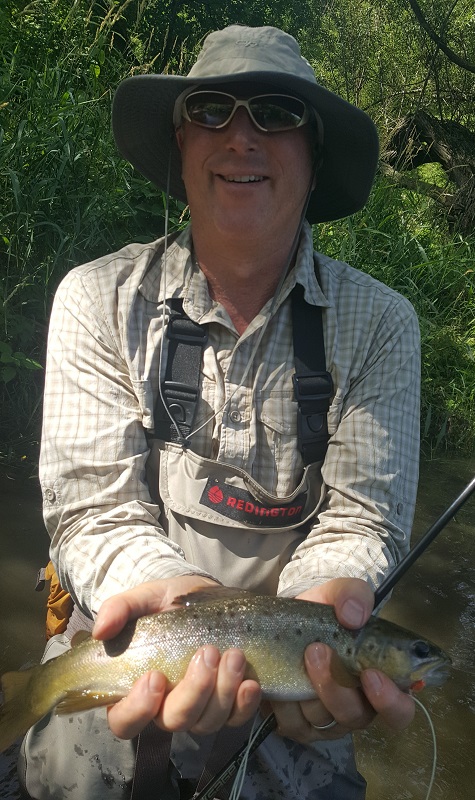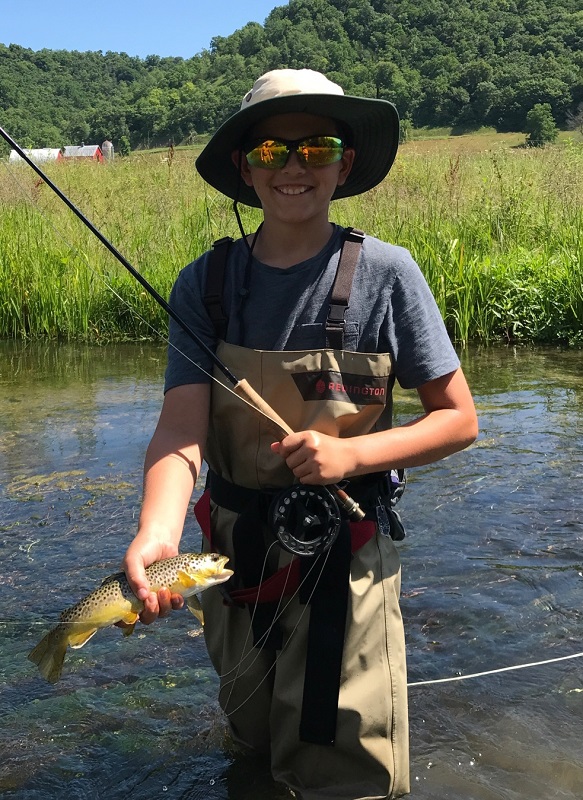 We did a little of nymhing and a litte bit of dry and dropper - both methods worked well.
June 29, 2017
Some serious rain has barreled through southeast Minnesota in the past several days, specifically the Whitewater area where high, dirty water, and flood like conditions are the norm. South of I90 has seen its share of rain as well, but if you know what areas drain the best, you can get on fishable water.
Which was the case yesterday as I had high school junior Max from Texas on the water. A first timer in the Driftless, he handled the rod better than most adults I guide. Asked where he learned how to cast, his response was my backyard and some help with YouTube. Amazing.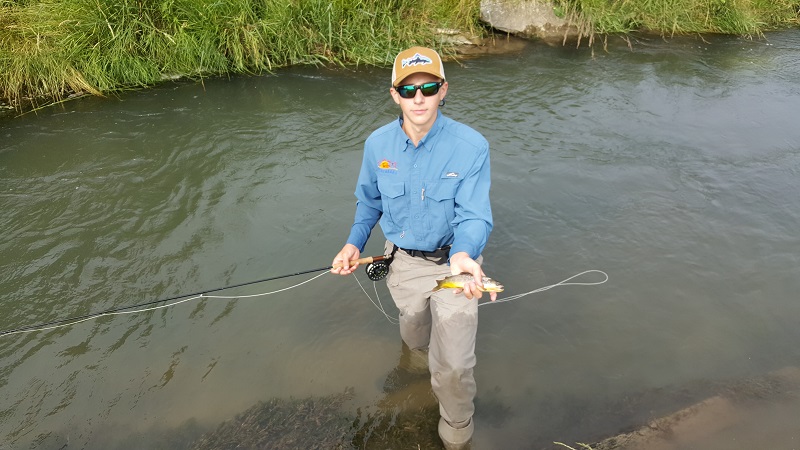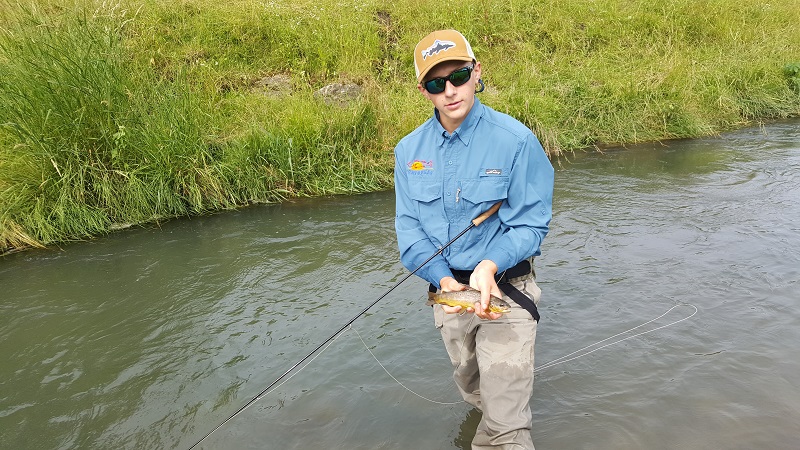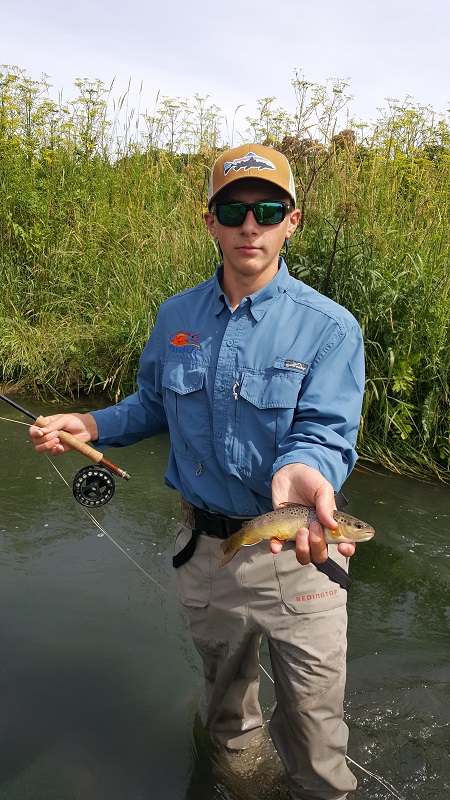 It was apparent that Max's experiences in the saltwater of Texas and Louisiana chasing redfish and trout with the fly rod were a key reason why his casting was topnotch. Practicing with an 8 weight and then using a 5 weight for the first time was an easy transition.
We hit a few different streams and fished a variety of patterns. Both spots were clear enough to nymph, and later dry and dropper, and the fish were hungry. All told we estimate young Max caught and released north of 50 trout Thursday,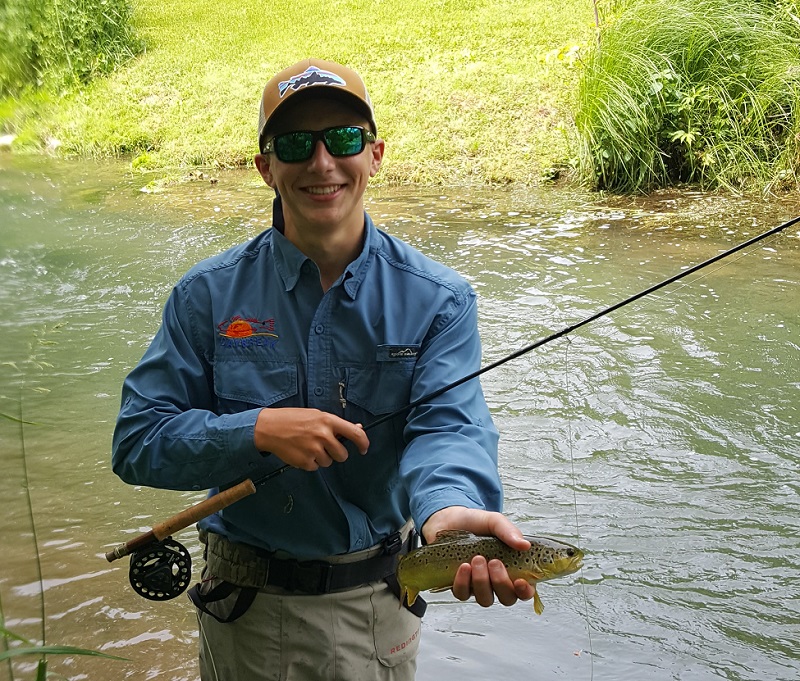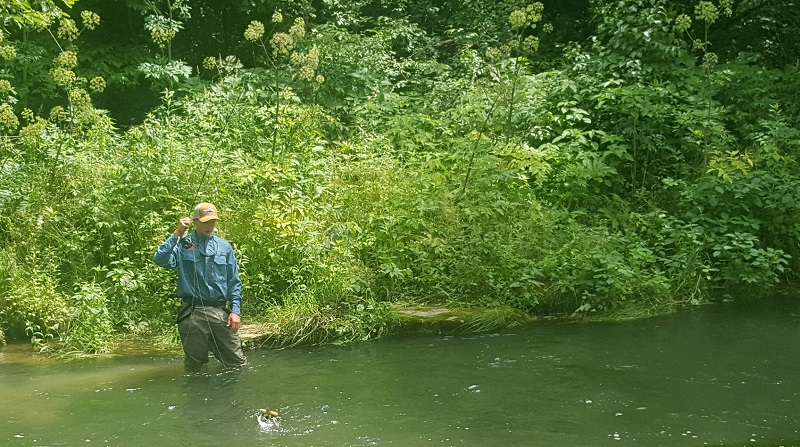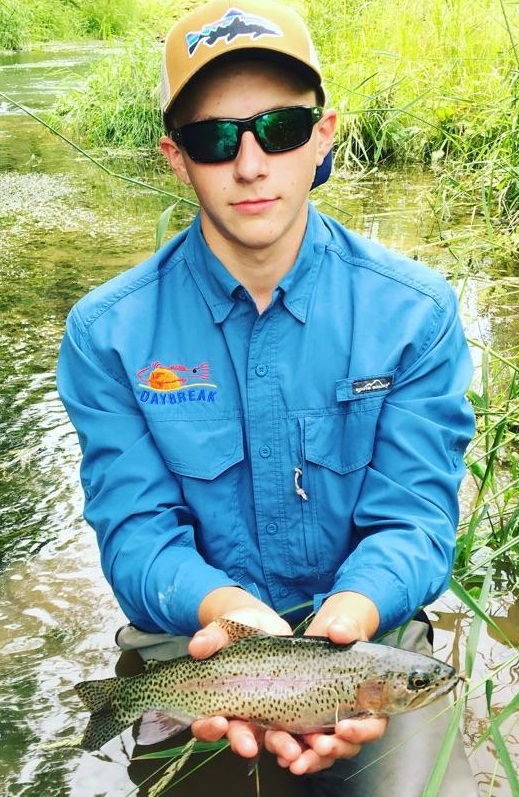 I have open dates for anglers of all skills and abilities through July 6. If you're interested, do me a line.
June 23, 2017
After some time off in the central lakes of Minnesota, I was back after it with client Gary and his wife Nancy Friday evening. The weather was beautiful for fishing, but with the recent heavy barrage of rains, finding clean water wasn't easy. I ran into three 20 somethings along the banks of a dirty Duschee Creek and gave some advice on where to find clean water since the Douche was not fishable and they hadn't caught anything.
Gary caught quite a few fish that evening. We did a little of dry and dropper set up, and we did some nymphing in the deeper runs. Both produced fish - but mores on the dropper. Gary hadn't fly fished in 40 years and had been practicing in his yard with a heavy, clunky 6 weight bamboo rod. I convinced him to give my 6 weight graphite a go, and we were off and running. We ironed out his cast, and by the end of the evening his presentation was spot on.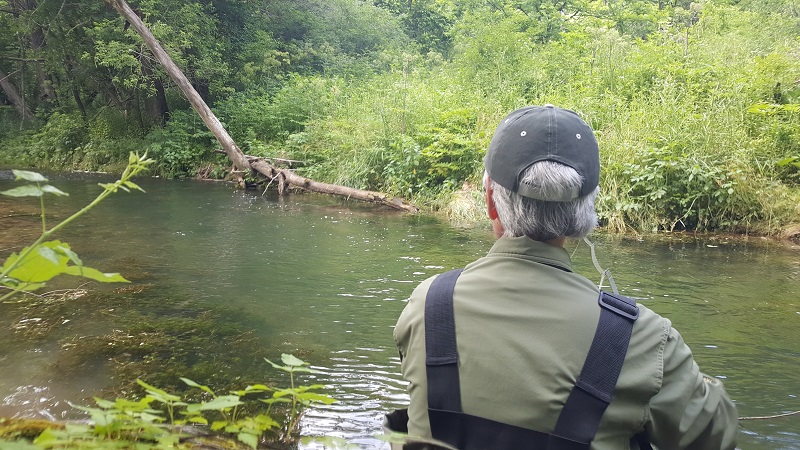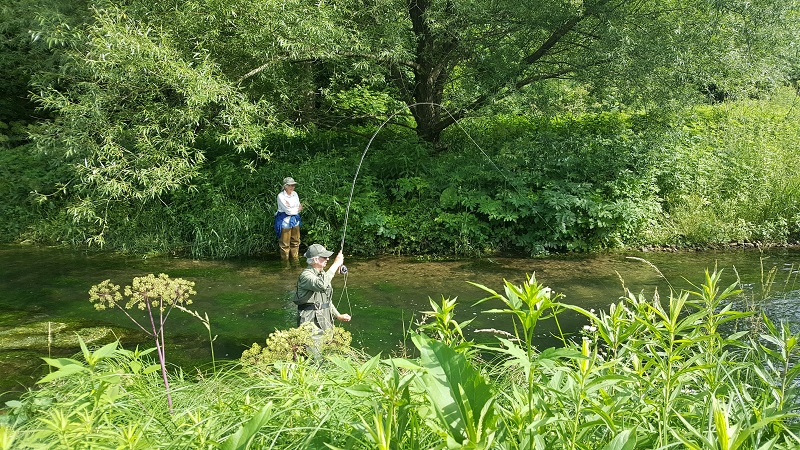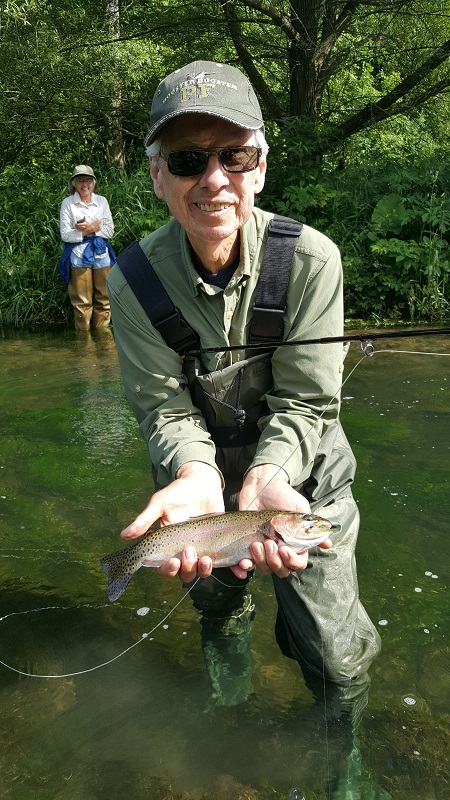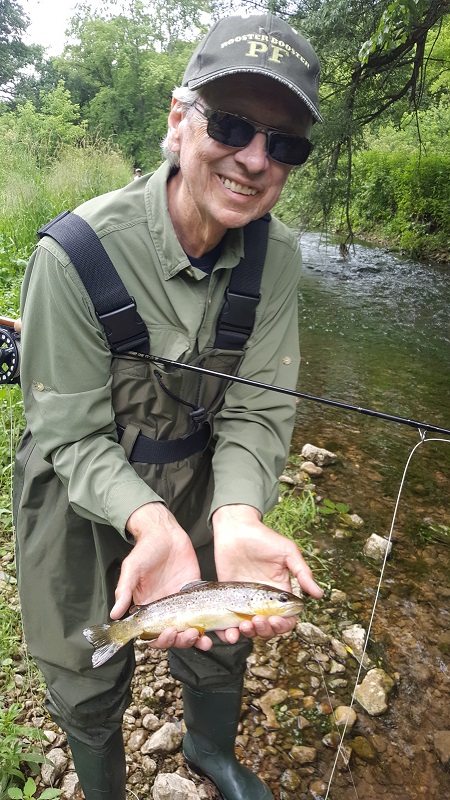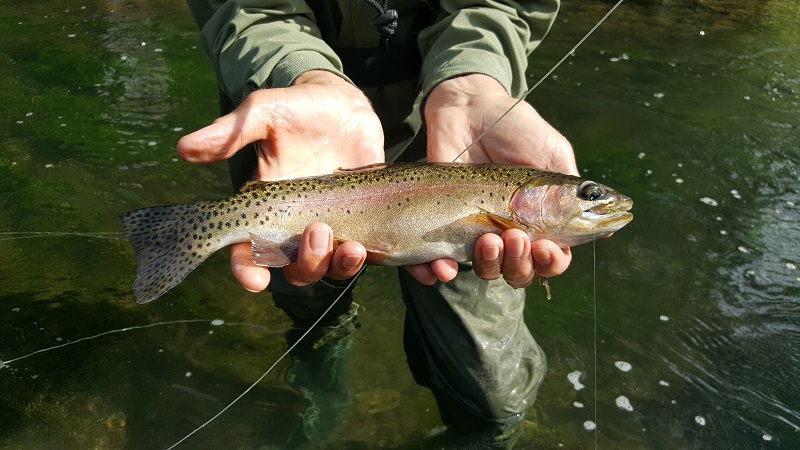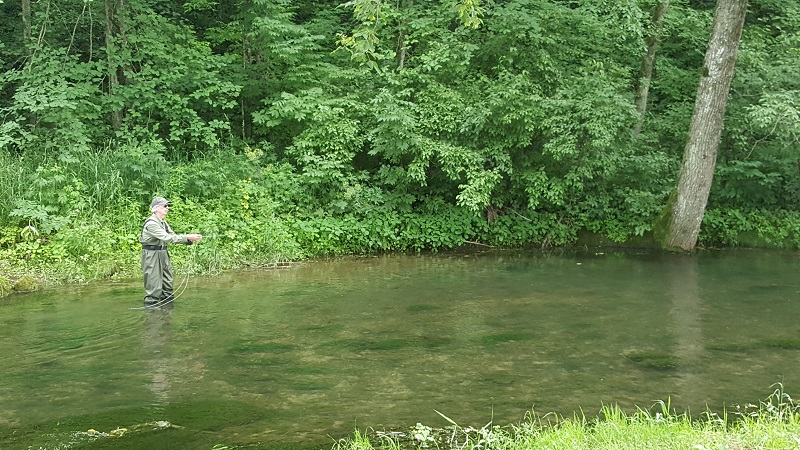 June 12, 2017
I spent the day with Rick, a client from Milaca, who hadn't been the southeast Minnesota in many years to fish. Rick was not rusty in the slightest as we caught many trout in the AM hours on a variety of nymph patterns. The water was stained but very fishable.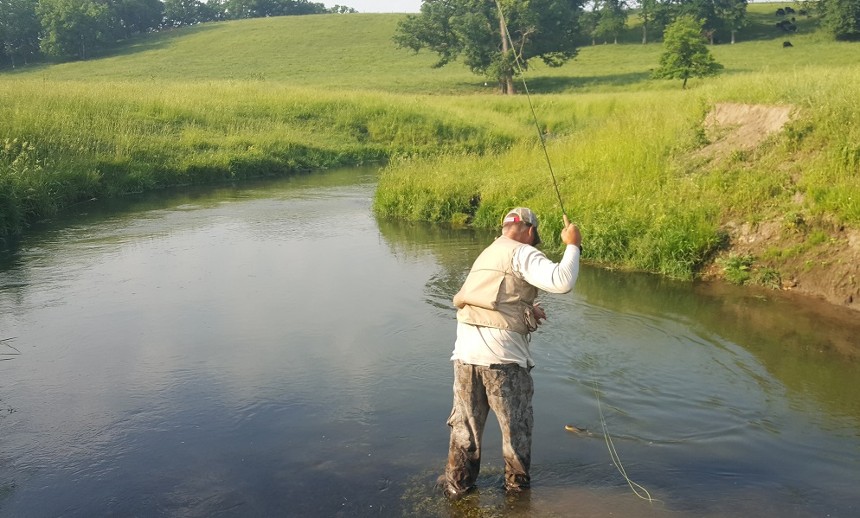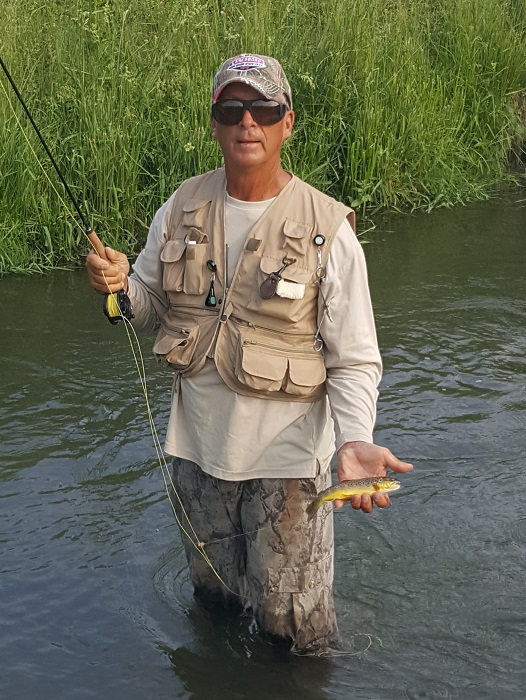 After some lunch and a few minutes of cooling off, we hit the second stream. It started out as sunny with no wind and oppressive humidity. The gnats and black flies were certainly present. The clouds rolled in later in the afternoon, and we began to hear thunder in the distance. We got off well in advance of yesterday afternoon's deluge that will leave large chunks of the drift less unfishable for a few days.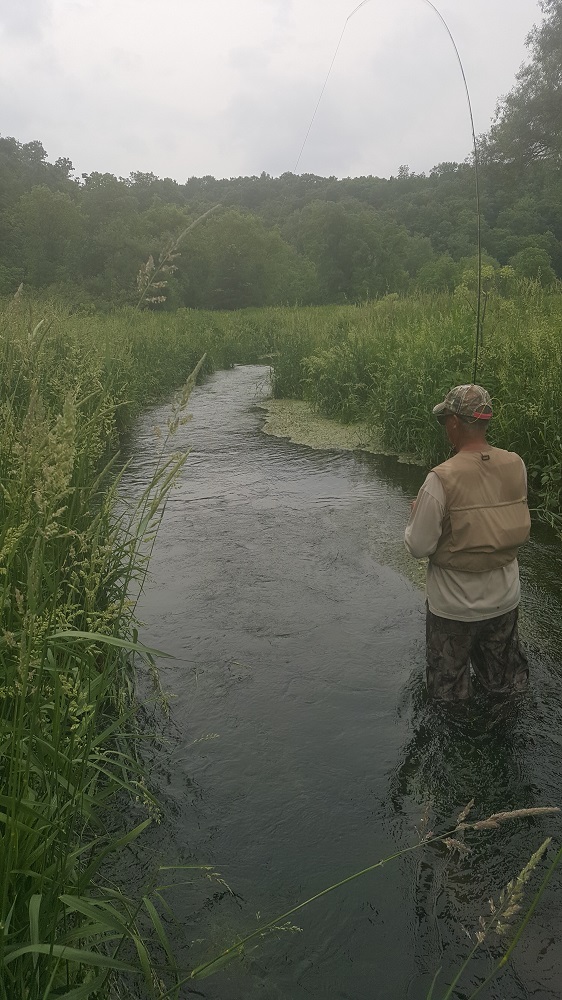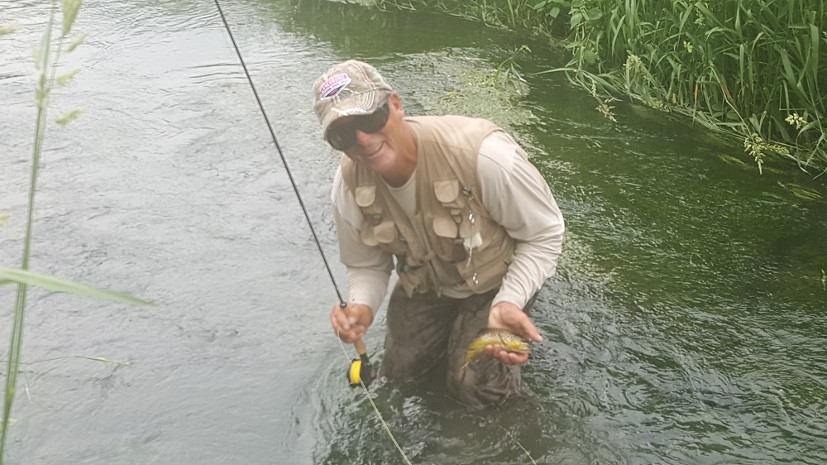 June 6, 2017
I had a client on the water all day Tuesday, Doug from Washington state, who had never fished the Driftless before. We started off on a stream that was not super clean, but it was ideal for nymphing and did well early on. We switched over to some dry and dropper action at times and had more fish on the dropper than the dry.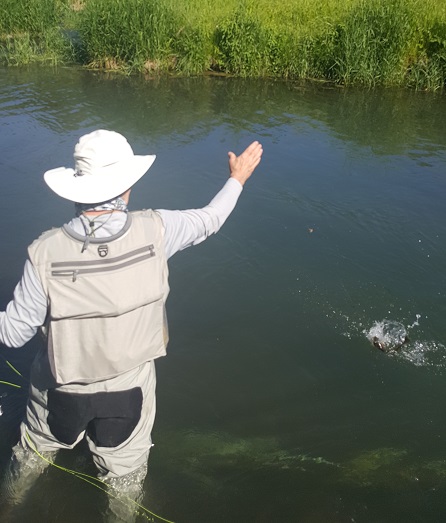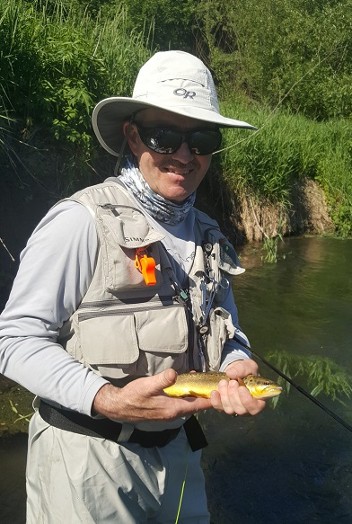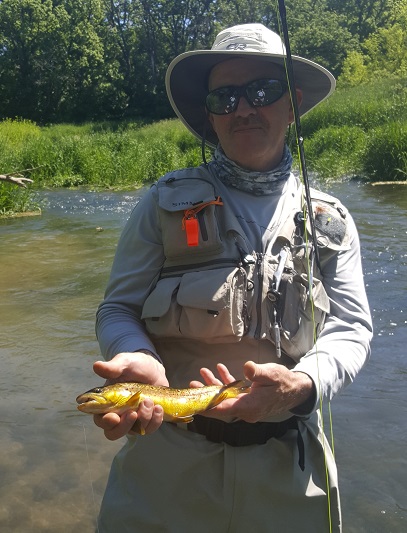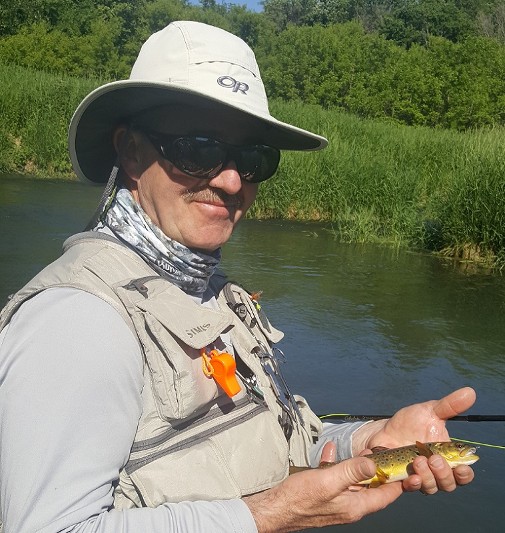 We stopped for lunch and headed to a different stream and had better luck with dries despite no real hatch being present.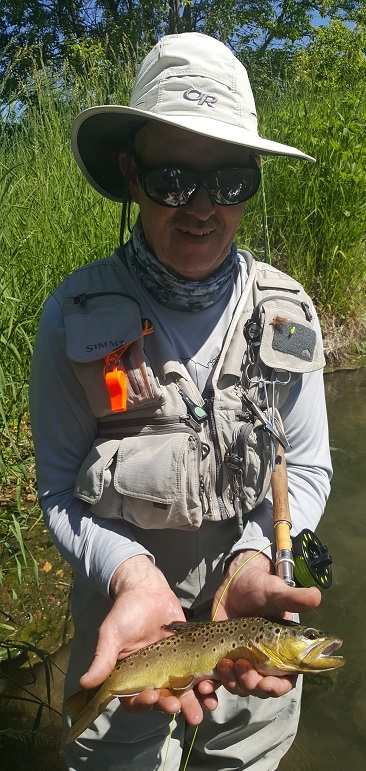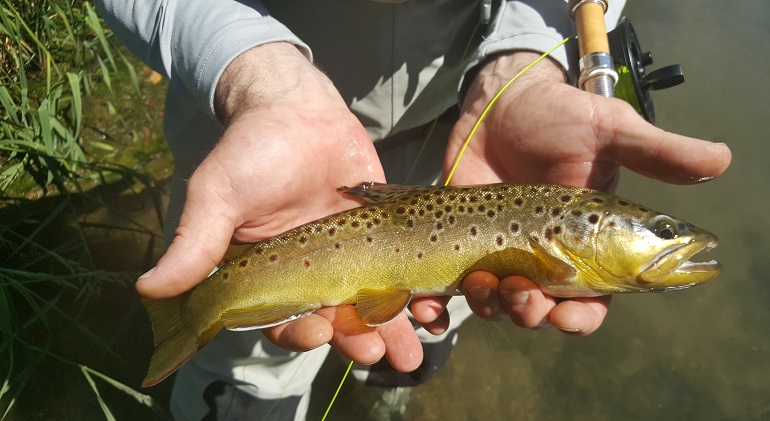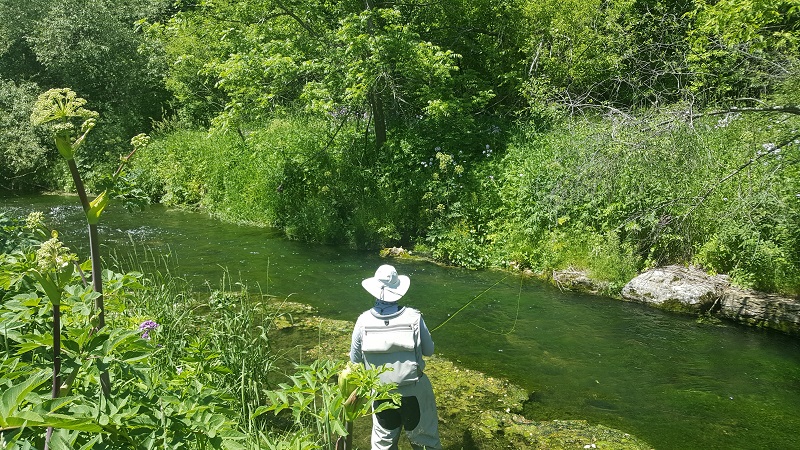 May 21, 2017
I had a pair of first time fly anglers out today. Who would have thought that weather in the 40's in late May would be our conditions!? It was a tough day overall with the wind and colder temperatures, but we managed a few browns on a variety of nymph patters. The water was stained upon our arrival, but it had cleared pretty well by the time we were done. A few fish were on top during the morning taking down unknown emergers.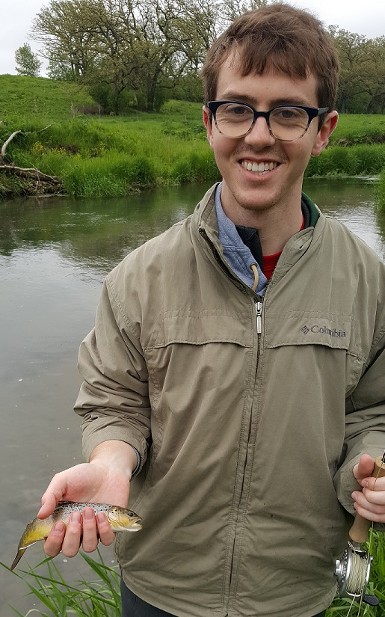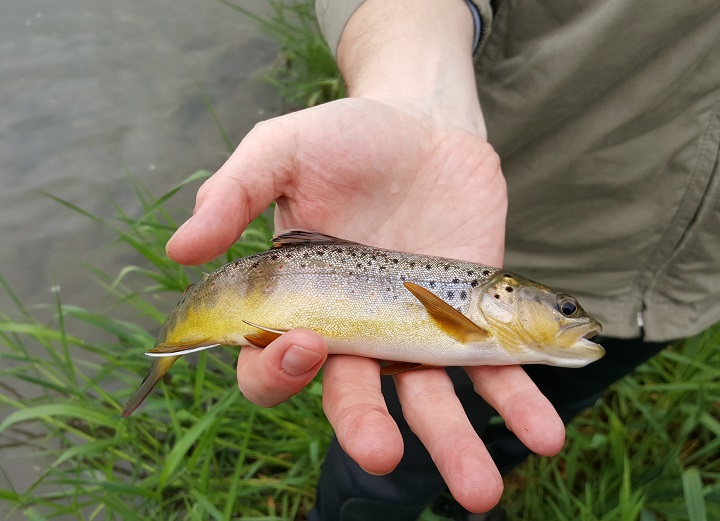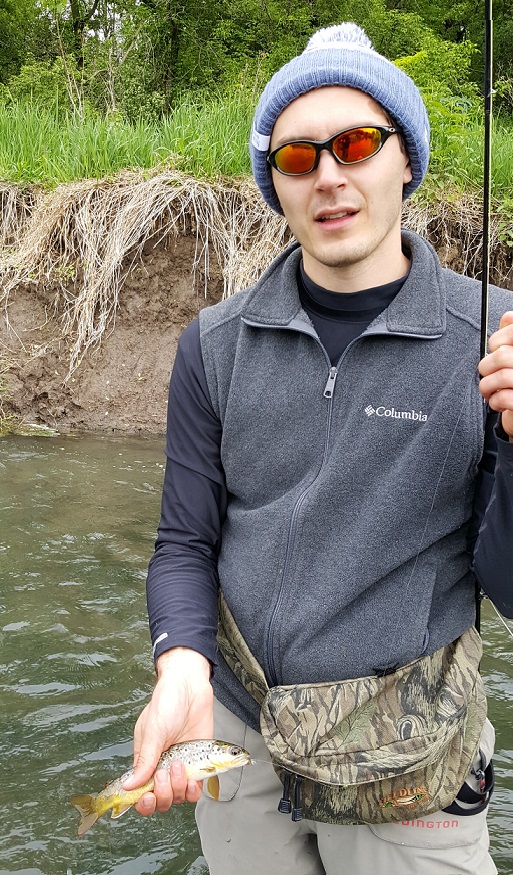 May 12, 2017
I spent the day with a couple of good friends on Friday. The weather was fantastic - light northerly wind and temperatures around 70. The catching, however, was the challenge. We did catch a few fish (and lost a couple of dandies as well), but things never really got going consistently. We caught fish on streamers and a host of nymph patterns, and even the random caddis, but there was not one go to pattern all day.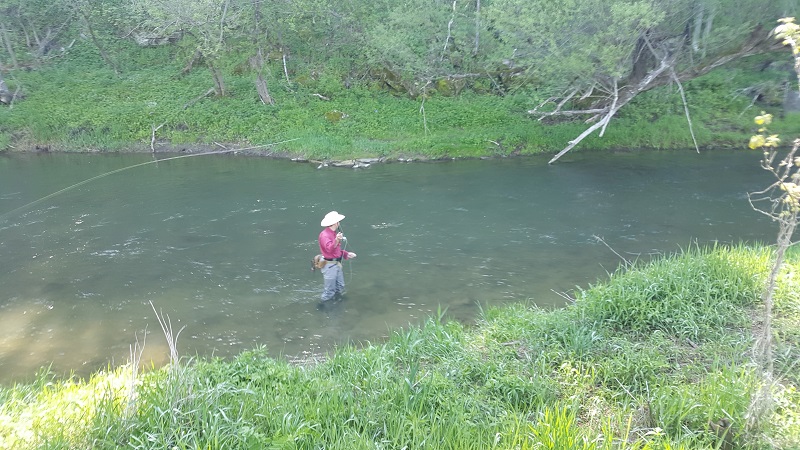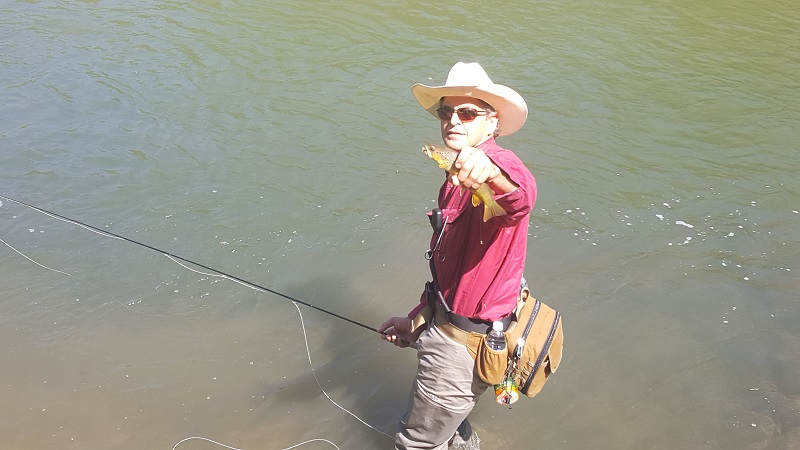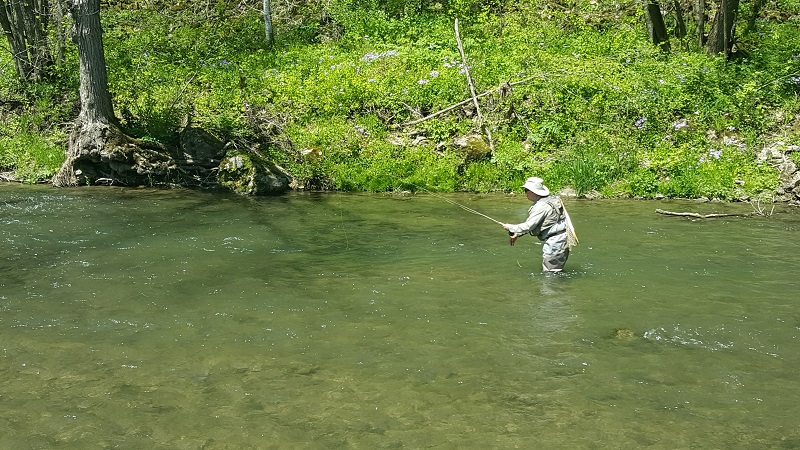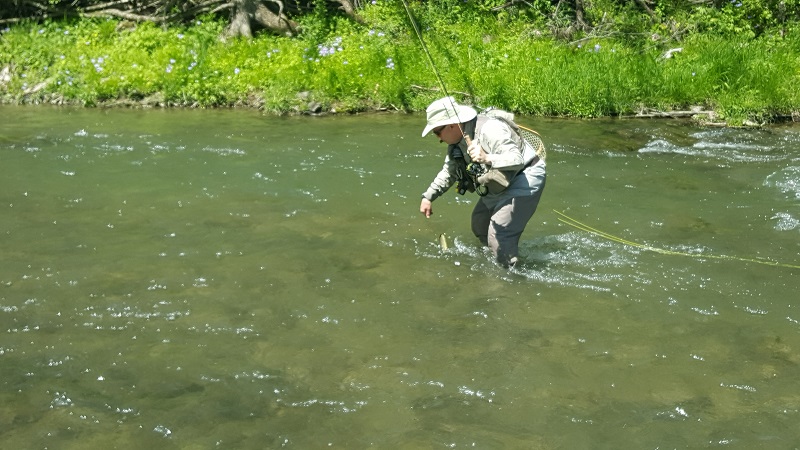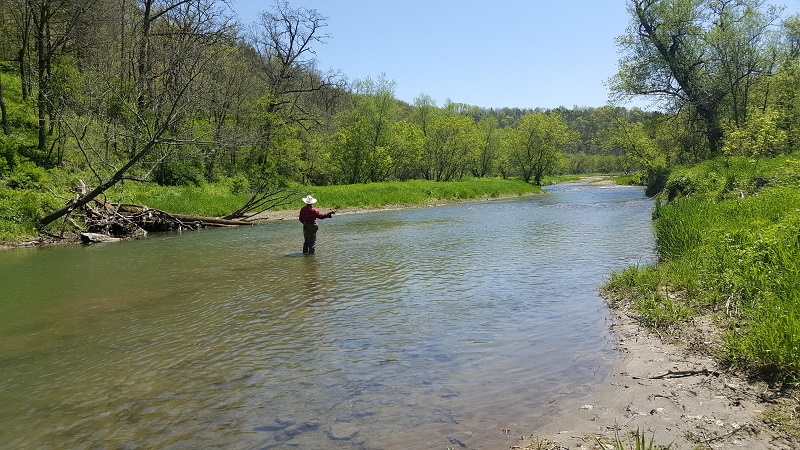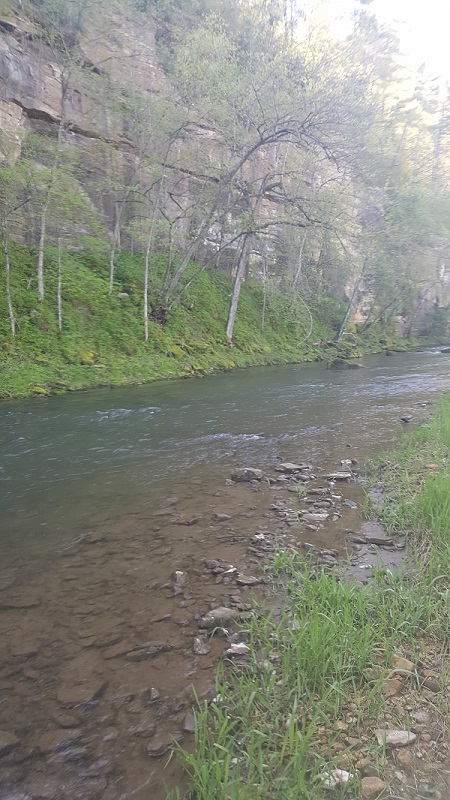 May 6, 2017
I spent the day south of 90 with a few different clients in very different conditions. The morning stop was on a stream that was running very clear. Fish were responsive to basic nymph pattern. There were a few caddis bouncing around, but not enough to go to a dry fly. We didn't do real well on caddis nymphs or emergers. PT nymphs were definitely preferred. I rolled over some rocks to find a whole lot of nothing, to be honest. Scuds were present and a few mayfly nymphs crawling around, but definitely there was a lack of caddis.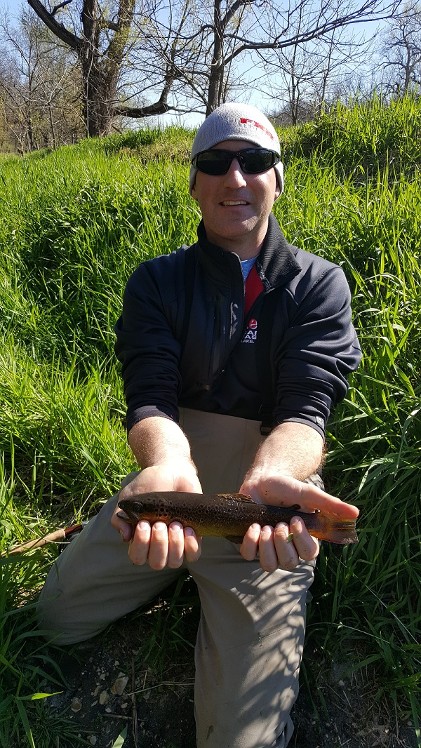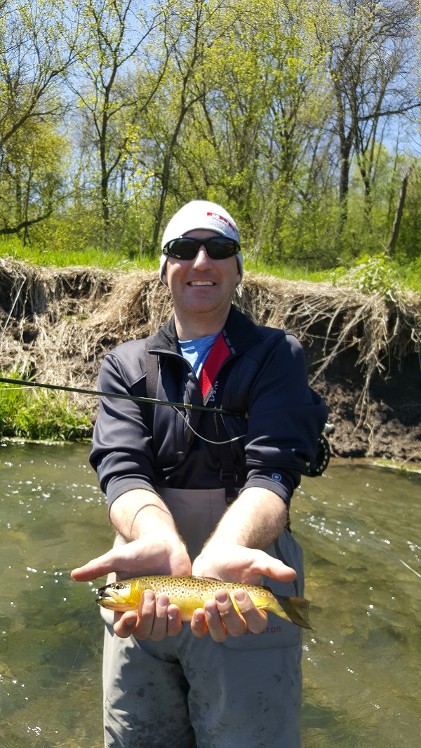 The afternoon had me on a different stream with different clients. The weather was gorgeous (hint: remember to apply some sunscreen!). We had good action n the afternoon hours, but things really slowed down on us by 5:00 or so. The trout definitely were not interested in feeding at that point.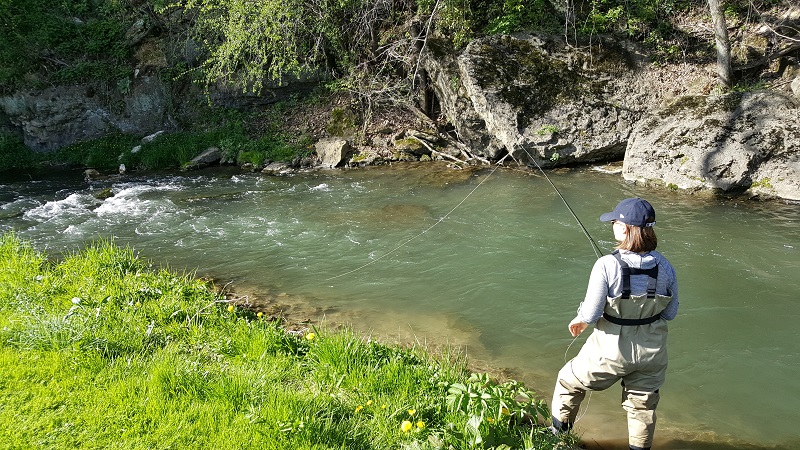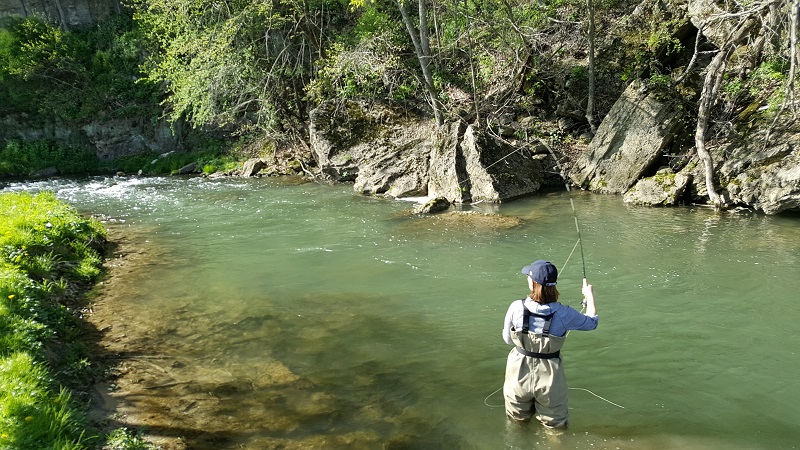 Spring has definitely spring in southeast Minnesota.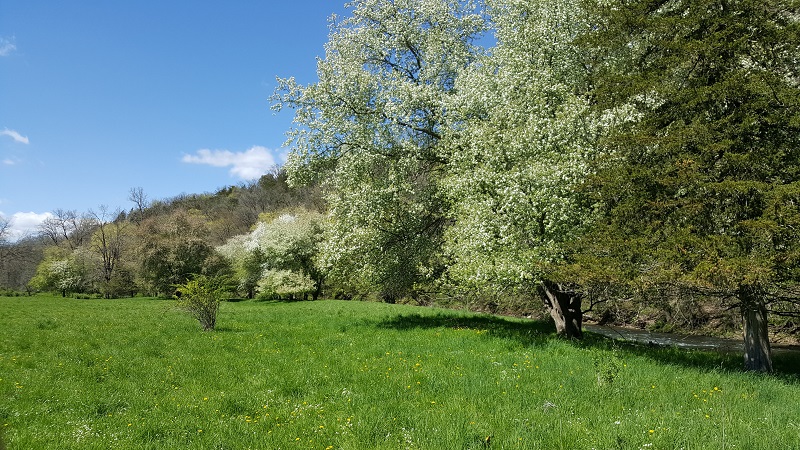 April 23, 2017
I got out on a few streams north of 90 today. The first stop was about 8:00AM. Lots of sun, no wind, but temps were only in the upper 40's. I planned on covering a bunch of water today, so I fished a small streamer pattern with a small 3 weight due to heavy canopy and unpredictable casting angles. I managed a few browns, but the brookies were the dominant fare today.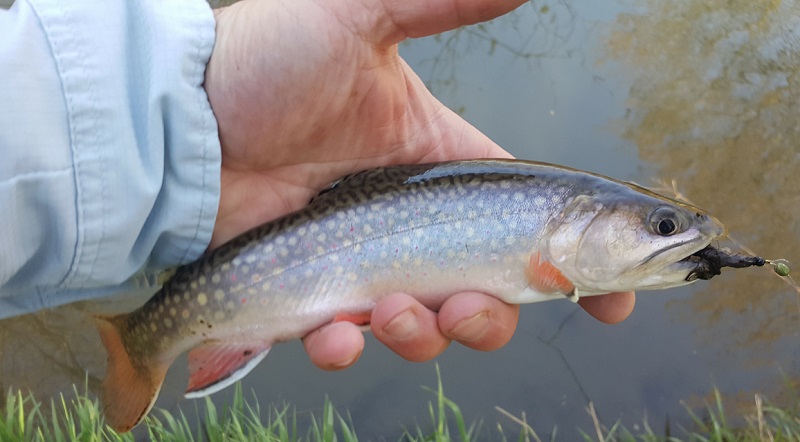 I stuck with the streamer most of the morning as I really had no reason to change things up.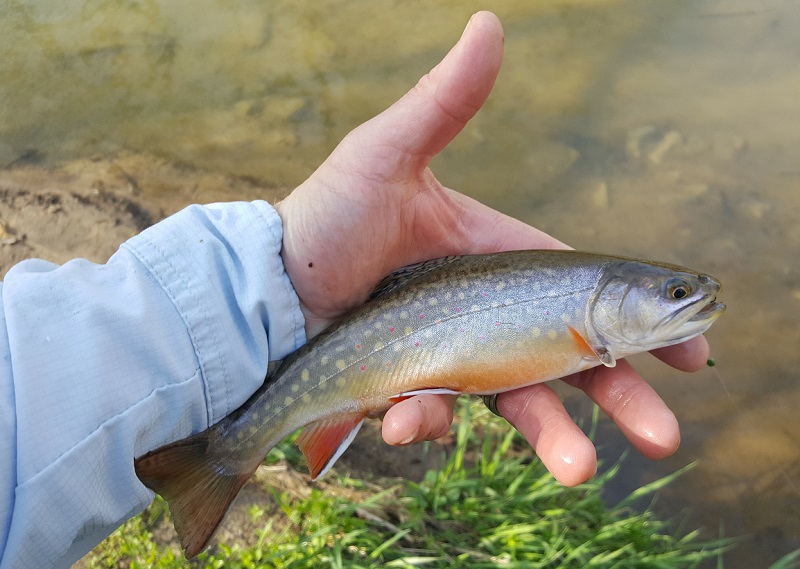 On my way out, I ran into several gentlemen on four wheeler. They were planting trees along a stretch of stream that had some HI done recently. Turns out they were with Bennett and Sons, the guys who supply most of the rocks along the streams for HI projects. We talked at length about the woody debris that was dominant on this reach. They talked about how they would have liked to have put in more rock to stabilize banks, but that TU, who was in charge of the project was adamant that they use woody debris instead of rock.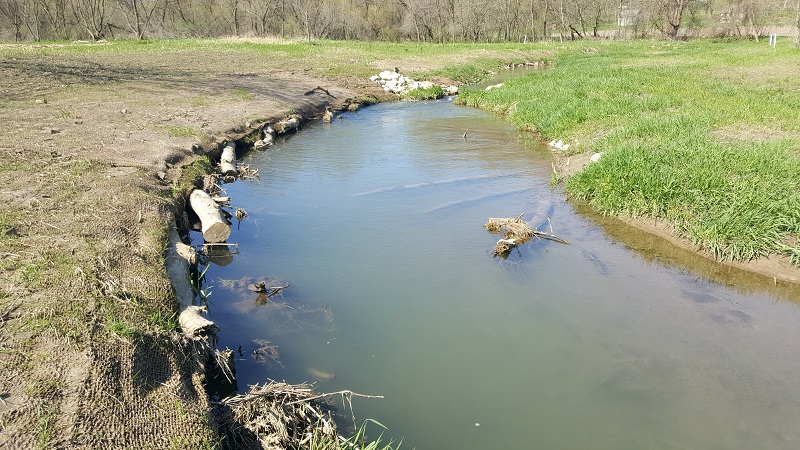 It doesn't take a rocket scientist to see the complete flaw that is woody debris (not to mention that it is a gigantic pain in the ass to fish around).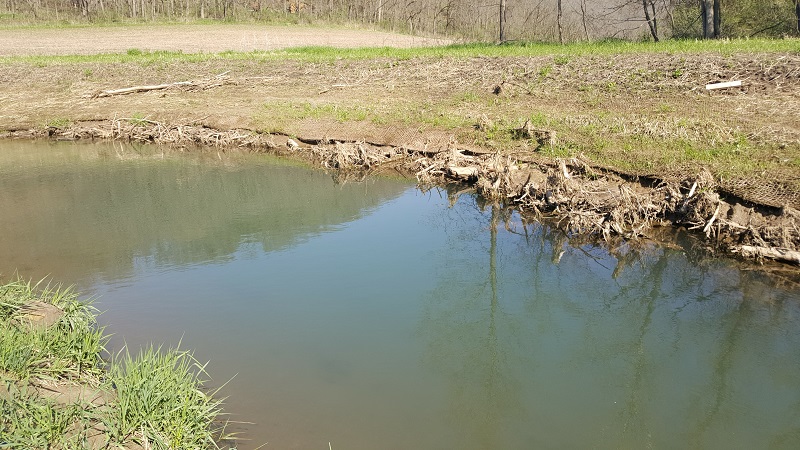 The guy from Bennett and Son kept talking about the project and how it has seen two major flood since it was completed, which requires a great deal of maintenance to go back in and fix....BUT, if you rock the banks and lock it in, it can withstand major water incidents better than woody debris. He was disappointed that so much time, effort, and money went into this project, only to have it not turn out like it could have, ALL because TU didn't want to use rock. It's pretty telling that when the guy who IS THE ROCK GUY FOR STREAM WORK questions how much woody debris is being used versus rock, you know something is up.
I have had some e-mail and Twitter communication with Paul Krolak, the TU habitat guy. Point blank: I have questioned the use of woody debris. He has since banned me on Twitter, complaining that I'm picking on a volunteer organization...and, in short, calling me an asshole. Well, if an angler questions the type of work that is being done in southeast MN, and it continues to be this woody debris garbage, then I'm an asshole. Paul Krolak and TU aside, the anglers who frequent southeast Minnesota deserve better. They don't deserve a cold water organization half arsing stream work all because they want to get miles done. How about they do fewer miles but do them right? How about they put in the necessary rock to stabilize banks?
Do it right. Do it once.
April 13, 2017
I had the pleasure of taking client Mitch out on the water for his first ever trout fishing outing. We couldn't have picked a better day - overcast, light wind, and active trout made for an eventful day.
After ironing out some basic casting form, we tested out those new skills on moving water. The hard part with teachng a new angler anything about fly fishing is that the first time is the first time for everything. It's hard to describe landing fish, let alone in Mitch's case, he hooked up a fish in the 17-18 inch range his first time. Unfortunately, we didn't land that one, but many trout were caught and released.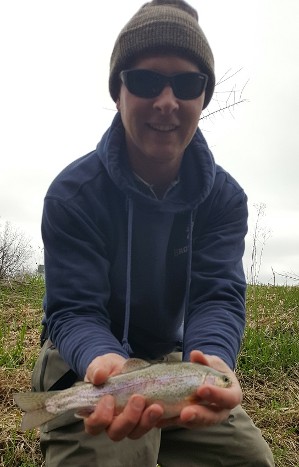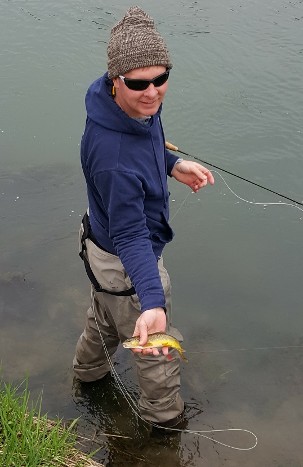 We stuck a basic tandem nymph rig all morning. I know some people question the idea of trying to get new clients to fish two flies at once as being a challenge. It's a style I have employed my whole career, and it has proven successful.
After lunch we ran into a pretty steady BWO hatch (gray/#18) for a good hour and a half. It was blast watching a person new to the sport figure out how to get a small dry fly presented into the feeding run and be rewarded with numerous fish for it.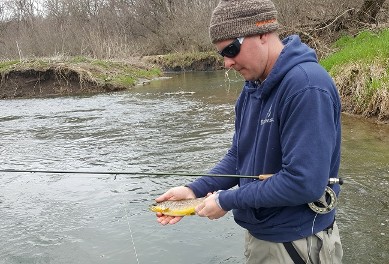 Don't forget the harvest season opener April 15. Plan accordingly.
April 8, 2017
I spent Saturday fishing with a good friend. We knew the winds were going to be whipping around significantly that day, so our plan was to fish some water, out of the wind as much as possible, and hopefully, have the place to ourselves. With the early season and ease of mobility, it's hard to predict other anglers and their movement, but, today, that was not the case.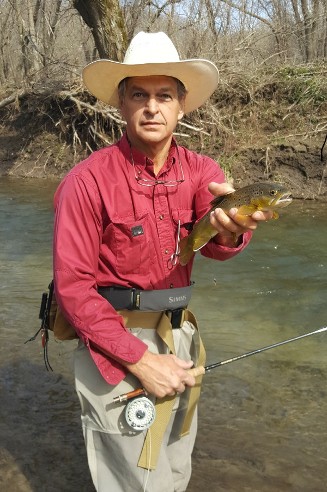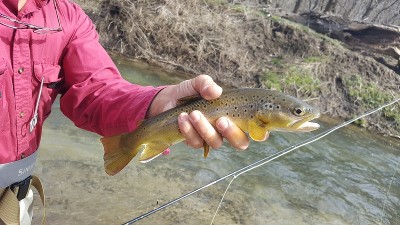 We started out on some big water that was off-colored from rains earlier in the week. Fishing was slow and water temps hovered around 47 degrees. We both caught a few fish, but things really started to pick up by 11:00. We nymphed a variety of patterns today: scuds, PT's, hare's ear, flashy hare's ears, Princes, soft hackled emergers, the Purple and Pink Squirrel...you name, we probably tied it on at some point.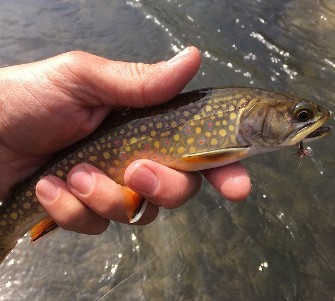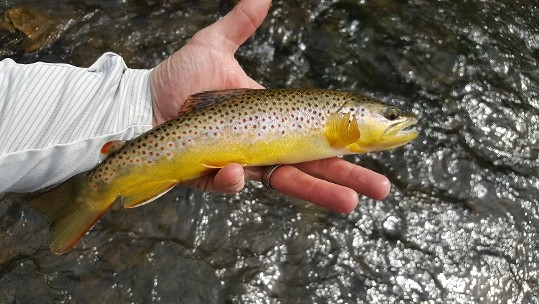 Water temperatures by noon were in the 51 degree range and trout had moved to skinnier, pocket water locales and were all over our presentations. We finally found run of sipping trout, which turned into a run of full-on rising trout, and a change in tactics over to small dries and wet/dry emergers. I caught seven trout in seven consecutive casts when I switched over to a dry.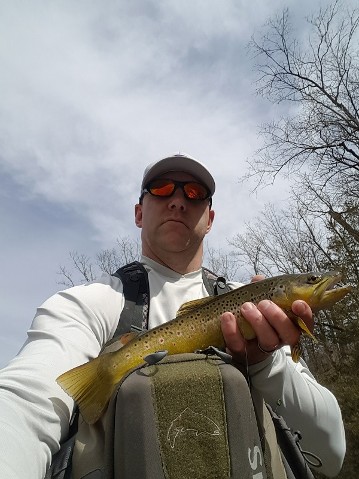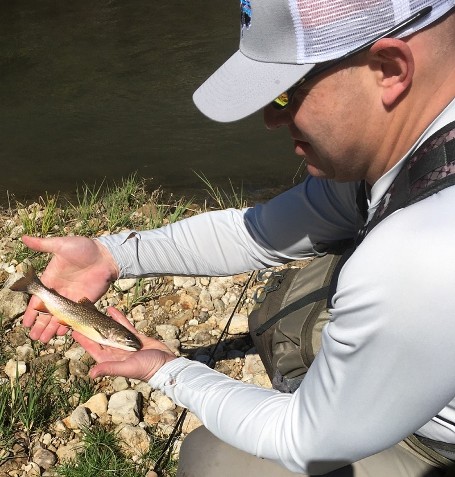 We finished out our day by 3:00 having caught more trout than we could recount. My buddy got the trifecta: brown, rainbow, and brook trout. I missed the trifecta as I had on a rainbow but never landed it.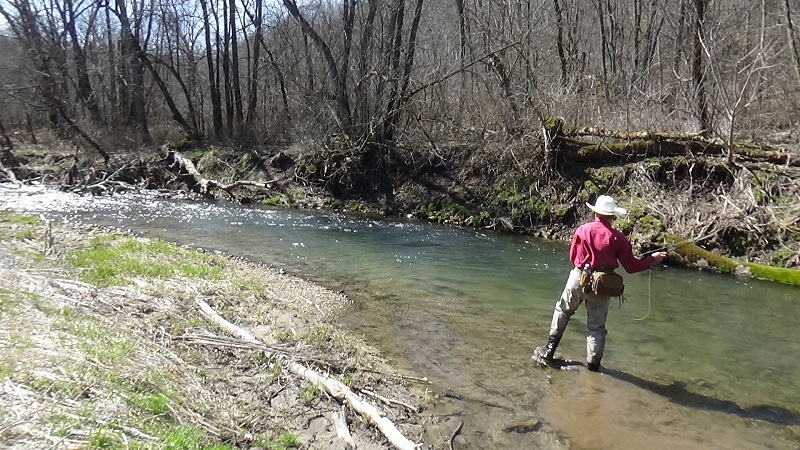 Video footage from the day here: https://youtu.be/rAdHQv6UlaM
April 4, 2017
After waking up this morning and looking our the window, I had a sense of deja vu all over again: rain, wind, and temperatures in the 40's. Once my son arose from his slumber, we were off to our first stop of the day, but it was not very clean as you can imagine from 24 straight hours of rain. We opted to attempt to fish some cleaner, smaller and were in luck. The sun even managed to show itself for a while before disappearing into the mid-dy clouds.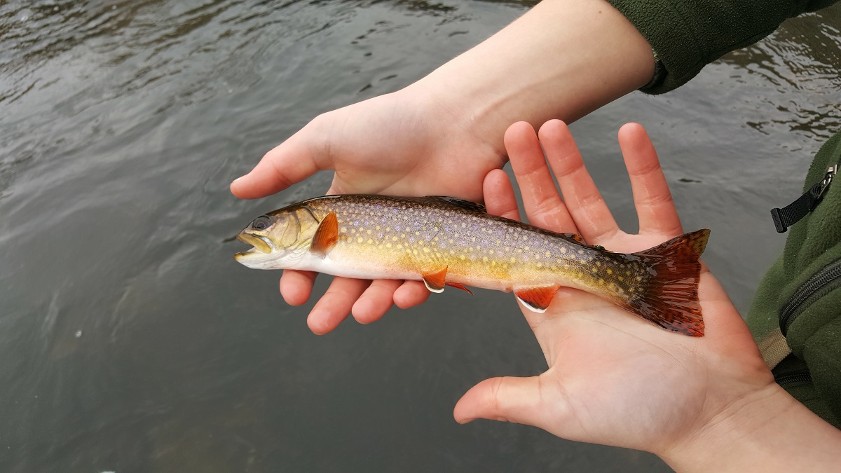 We nymph rigged the whole day with decent success. My son tried some Panther Martins but was shut out the entire day. He opted for the old man's flay rod and got after it. The northern tailwind certainly aided in his casting.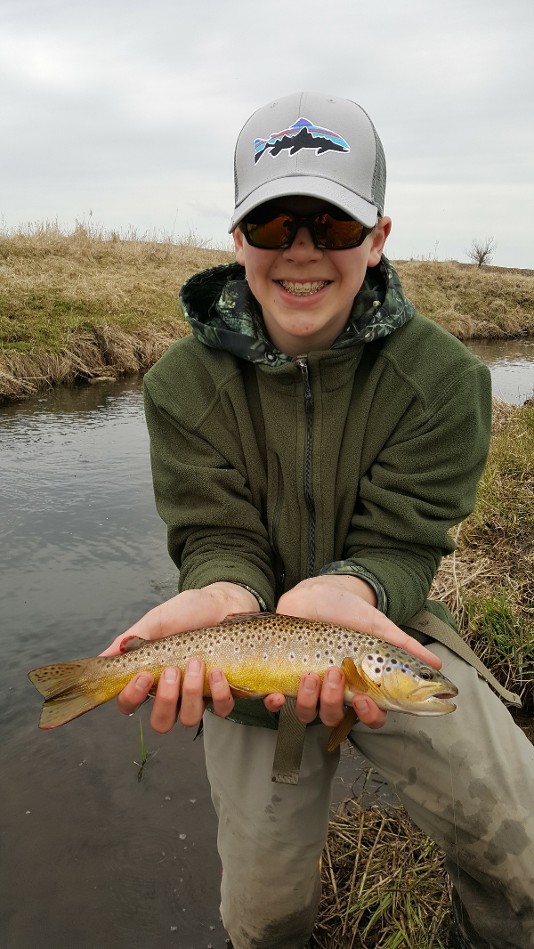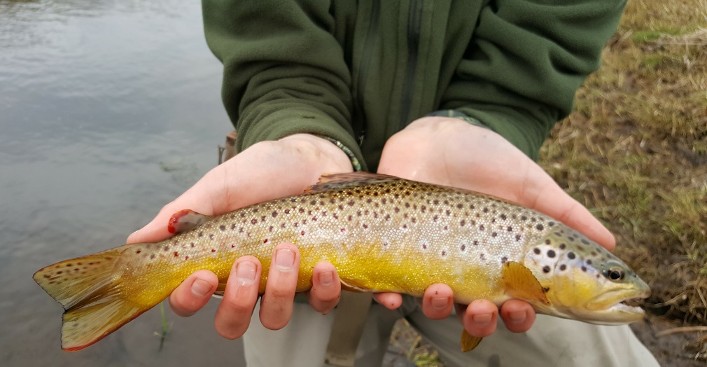 And the release...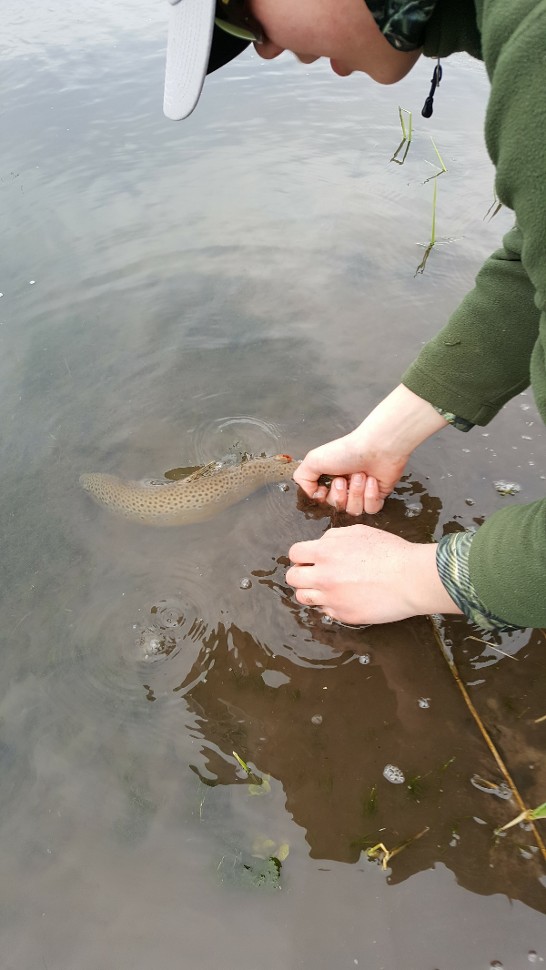 April 3, 2017
To say it was a miserable day weather wise on Monday would be an understatement. It rained starting at 9:30 and didn't stop the entire day. Temperatures never topped 47 degrees, but, hey. That's what waders and rain gear are for.
After a breakfast at The Cracked Egg in Lanesboro (I still prefer The Bakery and Brett's homemade pastries), we set off to our first stop. It was pouring pretty hard, but we rigged up and got after it. This report won't be photo heavy simply because of the weather.
I nymphed for a while my son tossed Rapalas. I then switched over to a marabou leech streamer for a while and tagged a few fish. We headed back to the car for a few hours of fishing, all in very clean water, I might add. Ate some lunch while we drive to stop number two and attempted to dry out a bit.
I caught some fish right away after caning my nymph rig over to an orange scud and Lightning Bug combo due to the less than clear conditions. There was significant water moving through dry runs in the crop less fields we drove by all afternoon, so it was a given that there would be some clarity issues.
We hit a third and final stop while fishing our way back to Lanesboro. It was pretty slow by that time as the temperatures had dropped and the fish weren't real interested in feeding.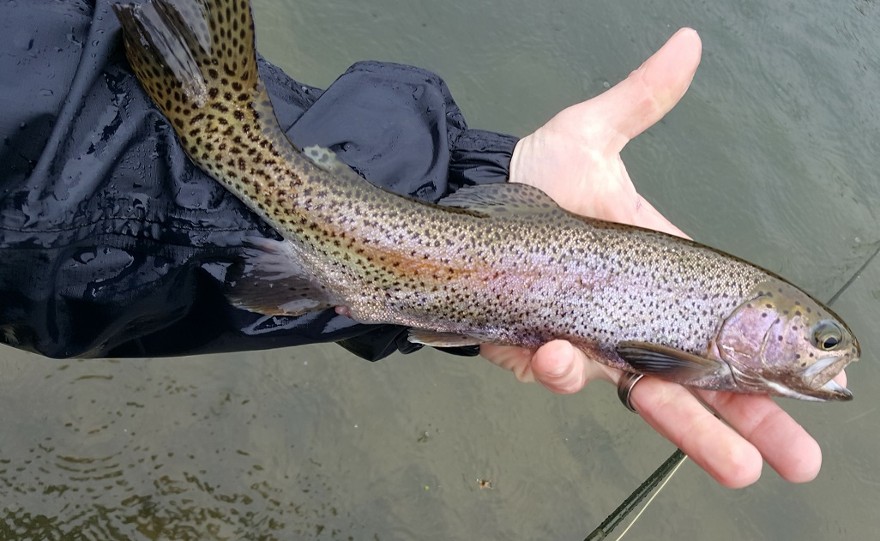 I snapped a few pictures of some pretty disgusting banks along a designated trout stream.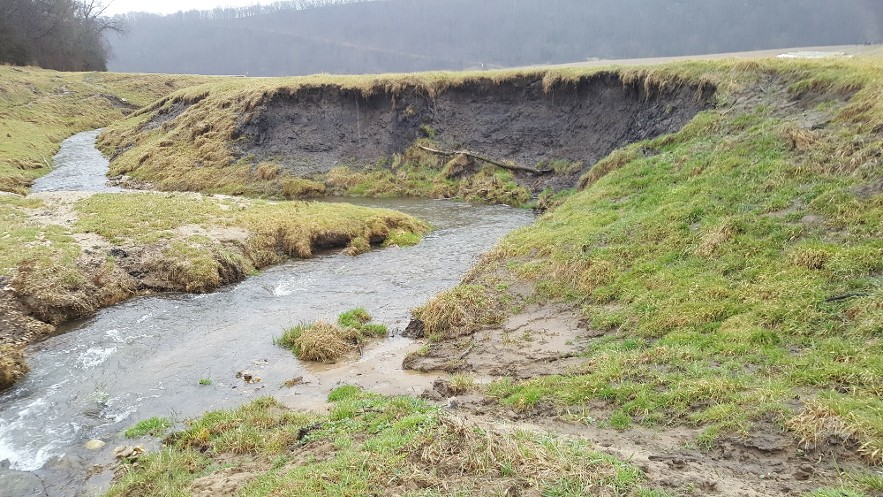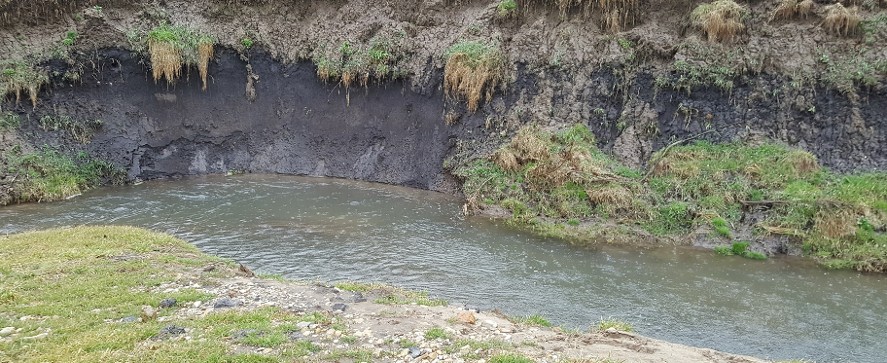 April 2, 2017
My son and I have used a few days of his spring break for the last four or five years to get a few days of trout fishing in all over the Driftless. We started our three day journey yesterday. The weather wasn't overly nice as temps didn't crack 50 and the wind picked up some; however, BO's came off around 1:00 and provided consistent dry fly fishing for a few hours.
My son is a tweener angler right now: half spinning rod and half fly rod. He's still getting used to the mechanics of what it takes to be a fly angler. It started to click a bit yesterday, to the point that he could actually cast specifically to rising fish. We tried out the new Sage X 390. It is a superb fly rod and very much suited for the Driftless.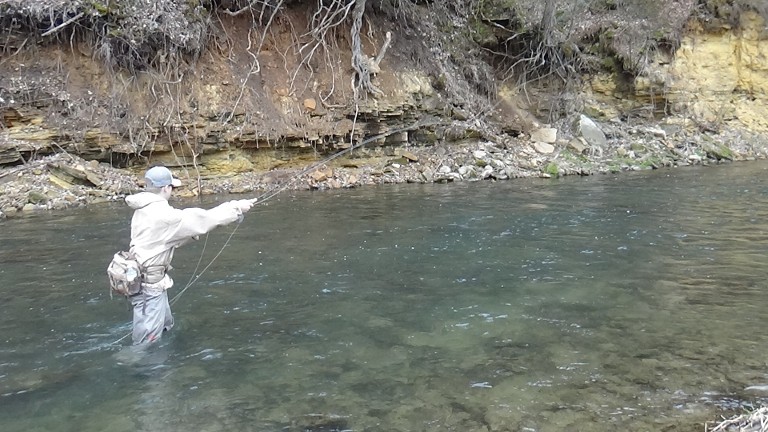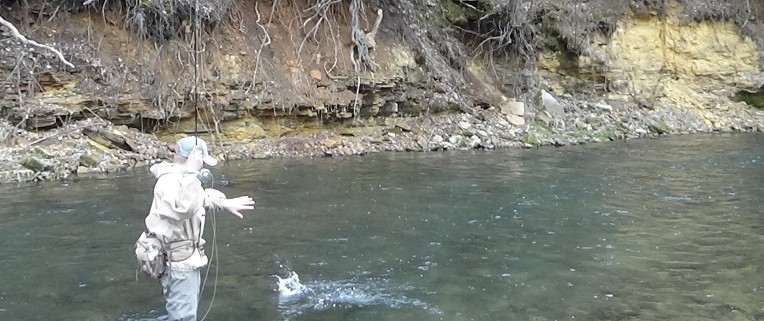 Area streams are in very good shape. Great flow and water clarity. Once my teenage son decides to get up, we'll get some breakfast and get out the door for day two.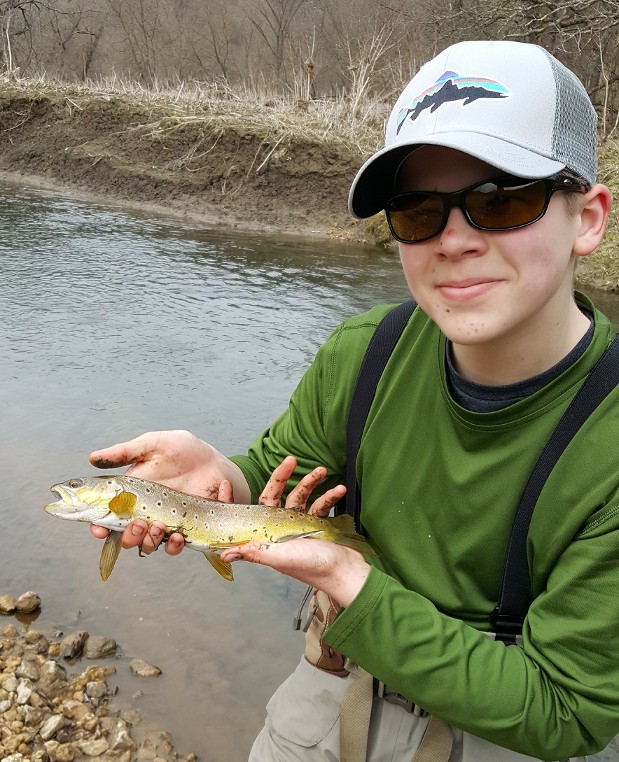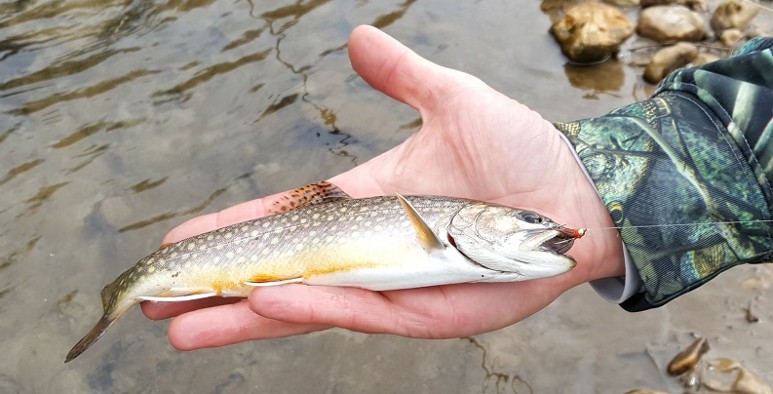 Vieo footage from the day here: https://www.youtube.com/watch?v=2Zr9P9iLhHk&t=34s
March 19, 2017
I got out for a few hours late morning towards the 1:00 hour. The sun was bright, but heavy winds made it feel a little on the bitter side all day. The stream I chose to fish was certainly up and had a slight stain to it, but the water temperatures were down enough to make the trout pretty lethargic. After my hike in, I started with a small streamer pattern, to no avail. I switched things up to a tandem nymph rig with a big Prince trailed by a scud and immediately started catching some trout. The action was not fast and furious, compounded to fishing into the wind, made it a tough outing.
There were midges all over the place, but there were no fish rising to pick them off.
On my way out, there was one gentleman who got his truck stuck and was in a bit of a pickle to get it out considering the remoteness of the area and lack of cell phone coverage. Moral of the story: be careful where you are parking and driving right now. Lots of soft rods, mud, and ruts in some areas make for some tricky exit strategies.
March 5, 2017
I got out from around 9:30-1:00 today on some smaller streams south of I90, although the town bicycle, Trout Run, was clean and definitely fishable when I drove through. I saw the Root in several places as well. The further downstream I got, the dirtier and higher it got, which is to be expected this time of year.
I did quite a bit of walking today. The snow pack wasn't an issue, so covering a lot of ground and seeing water was not a problem. I was sheltered most of the day from the southerly winds, and temperatures eventually got in the upper 40's despite the lack of sunshine all day. There were midges abound all day, though. I fished a midge trailer when I was nymph rigging and then switched over to a midge dry for some longer runs that had consistent rising fish.
There were oodles, and I do mean oodles of trout today. It's tough fishing clear water when you have bunches of fish in each pod staring up at your every move. The populations were healthy and show great promise for the remainder of the season.
February 25, 2017
The northern half of the Minnesota Driftless was impacted with heavier snowfall totals than the southern half (south of 90). It looks to be a slow warm up over the next ten days with some 30's and 40's. Hopefully, there will be minimal flooding as the thaw ensues.
March is a great month for fly fishing in southeast Minnesota: the trout are hungry and willing to pick up flies. Aquatic invertebrates become more active, and the trout respond to it. It's also a great time to get out your streamer patterns and strip some streamers for aggressive fish.
Contact me if you are interested in a March outing - plenty of available dates to enjoy fly fishing southeast MN.
February 19, 2017
I fished with client Jason on Sunday. Conditions were tough as the water we were on wasn't terribly clean, nor did it warm up very fast (46 at the end of our run). We tandem rigged nymphs the whole time, but we certainly tied on a variety of flies in order to catch the trout we did. Larger, flashier patterns worked the best, either dead drifted or swimming the nymphs to give them some movement. No indicator for the most part, which allowed us to get down to where the fish were.
Beautiful day, great client (and first time fly angler). Lots of other anglers around taking advantage of the great weather.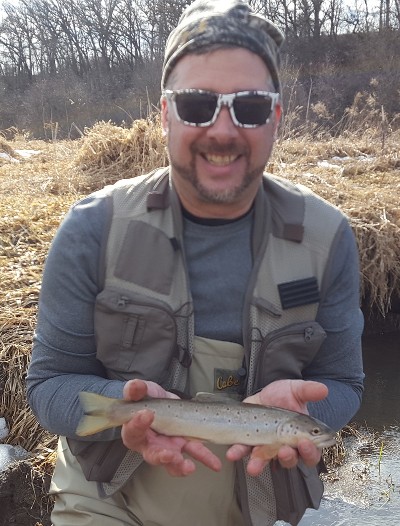 There was still some clean, fishable water Monday morning when I was out for a while. I didn't stay too long as the rains came. Larger watershed like the Root are high in general, although I would not classify them as filthy, but they are unfishable.
February 17, 2017
Today was a very un-February like day, but it was an exceptional day on the water. I fished three different streams from mid-morning to mid-afternoon with great success. Water clarity and stream temperatures were not an issue. The trout were willing to pick up nymph patterns all day.
I started out with a Prince and scud trailer on 4x tippet due some slightly off-colored water. Trout picked up either fly, so it really didn't matter at that point.
Laer in the day, I hit the last stop to ultra-clear water with some very spooky fish. Long casts, long leaders, and a bit more stealth than I had showed earlier in the day was a necessity. They keyed on either the scud or the midge trailer.
I ran into only two other anglers all day - both were rigging up on the upper end of a section I was on.
Fun day: lots of sun, clean water, and willing fish.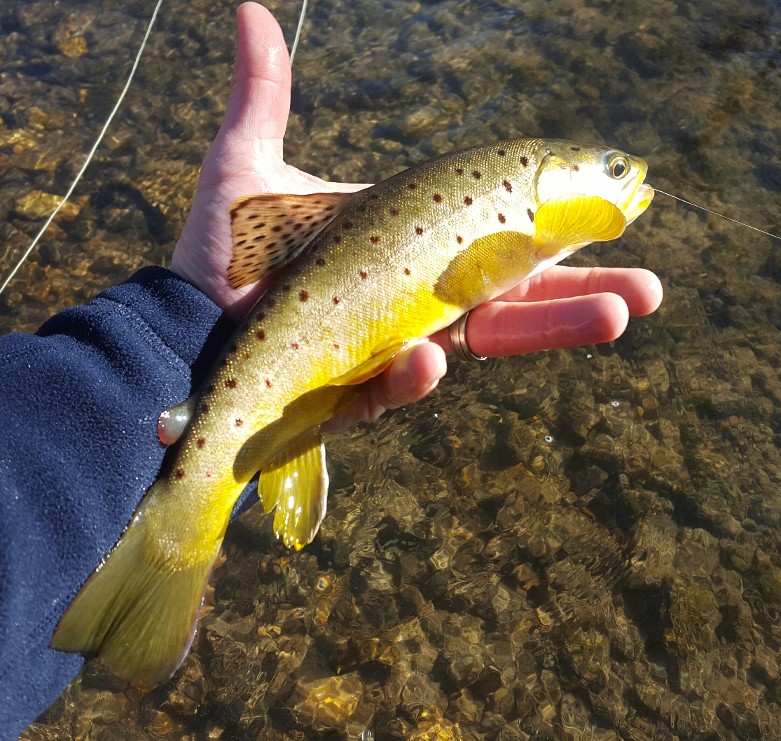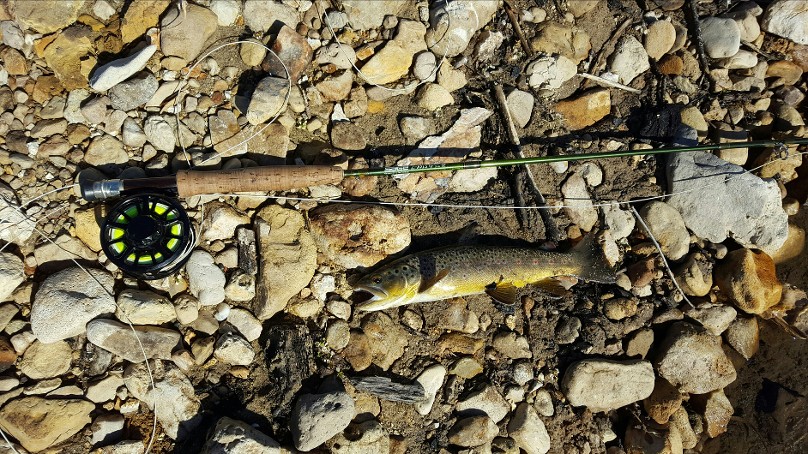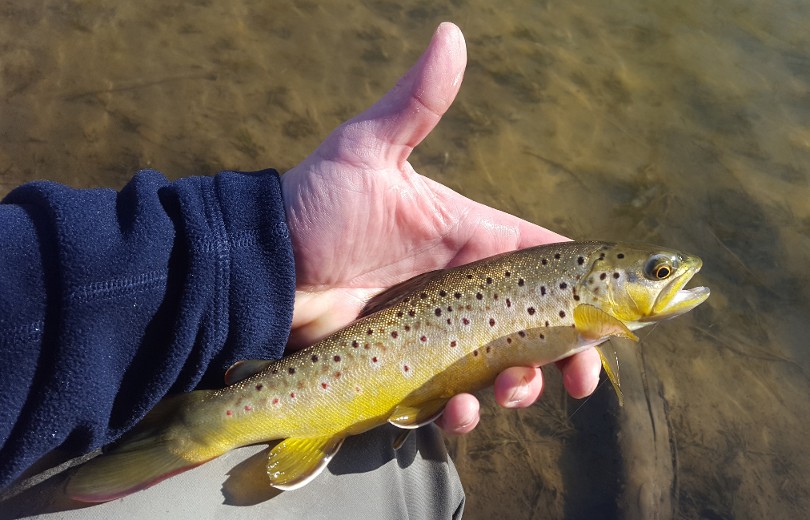 January 29, 2017
Today was nearly as nice of a weather day as the day before (Saturday), but I got out for a few hours south of 90. The water was a tad off from last week's meltdown, rains, and heavy snows. Walking along the banks was not too difficult, but I was still punching through areas on occasion. I mixed things up and went with a scud and pink squirrel trailer. Fish were keying on the pink squirrel right out of the gate. I tie my PS a bit differently than the original, but all things considered, that was definitely the fly they wanted.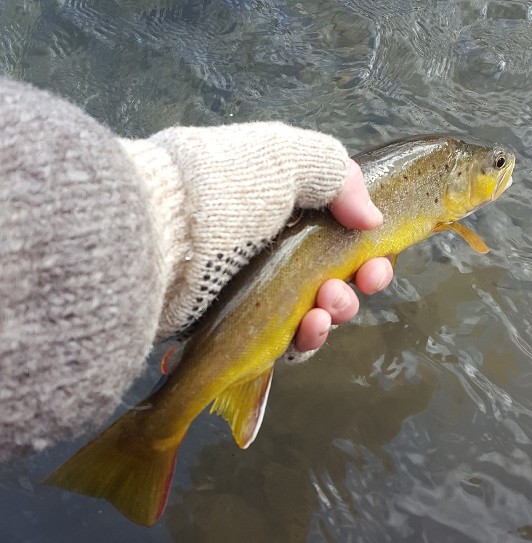 No other anglers around. Talked to one guy who was just coming out of a different stretch when I was driving out. He caught a few trout as was ready for a beer at that point in the day.
January 14, 2017
The weather had been downright ugly since the opener period, but that will all change starting today with temperatures in the 20's all weekend with a warming trend all week into next weekend with weather predictions in the 40's! The only downside to 40's is the melting snow and run off that could significantly lower stream temperatures and shut fishing down. However, there's lots of water out there and nice weather on the way, so enjoy!
January 7, 2017
Sub-zero weather and Arctic like conditions have shut fishing down throughout the region. Looks like better temperatures by mid-next week. The snowpack has not changed since the opener.
January 1, 2017
Today officially kicked off the 2017 Minnesota season. It wasn't overly warm today - mid 20's by the time I hit the water later in the morning. There were no midges on the banks or in the air, but the trout keyed on them. I fished a scud with a midge trailer the entire time I was out. The first five or six browns that were brought to hand all took the midge trailer. Later, it was a 50/50 split scuds to the midge. On my way out, I ran into one other angler, TFO5WT, from another forum. Good streamside chat with a fellow trout junkie.
Excellent trout opener. Lots of willing fish, and the weather was certainly bearable.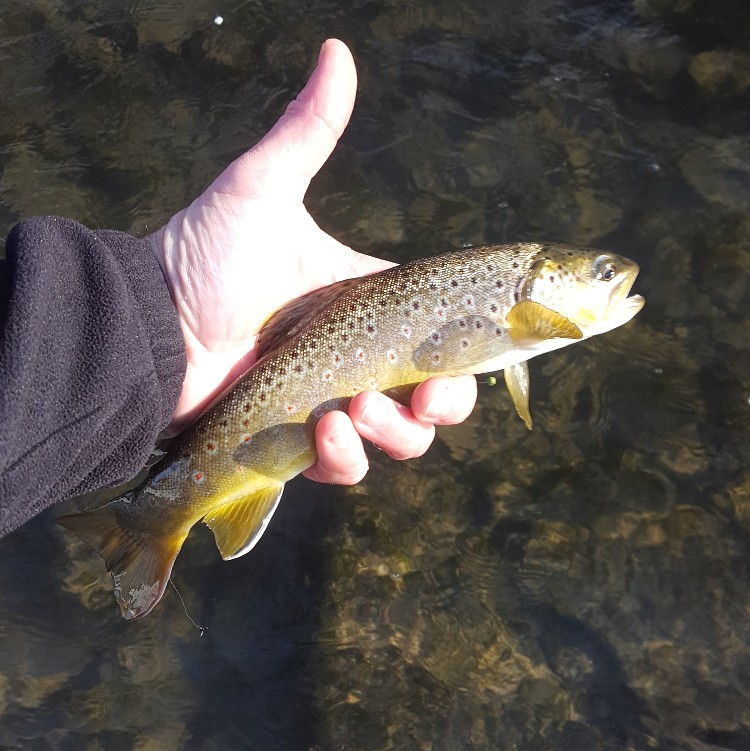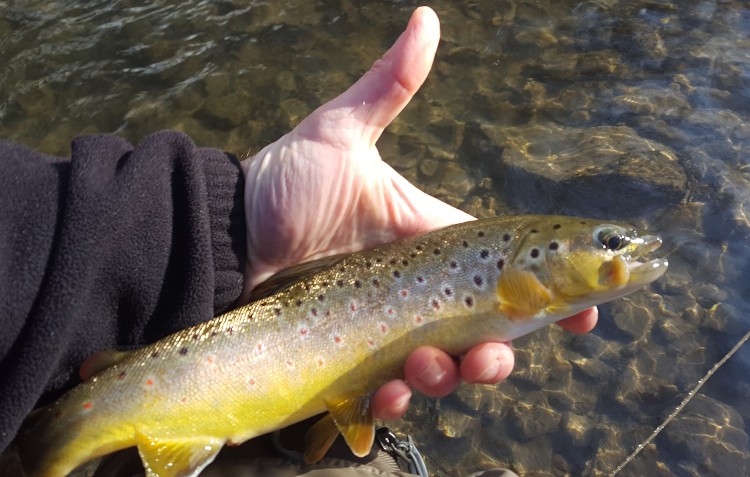 December 29, 2017
The annual winter-catch-and release seasons opens up on January 1. There is very limited snow pack in southeast Minnesota, and streams should be in excellent winter fishing shape. A reminder that there is a special CWD deer hunt going on from December 31-January 15. See the link below as to the boundaries of the special hunt, which means if you are fishing in that area, you must have on blaze orange.
http://www.dnr.state.mn.us/wildlife/research/health/disease/cwd/index.html